Best metal detecting sand scoop
Having the correct equipment for any task, regardless of that task means that you increase your efficiency and reduce the amount of wear and tear on your body.
This is no different in the hobby of metal detecting. There are several ways that can maximise your time either on land or on the beach. We'll concentrate on the beach for the purposes of this article.
I have another useful article that discusses beach metal detecting providing you an extra income. Read how to earn an extra income beach metal detecting here.
Choosing the correct metal detector for the beach can be the difference between finding a wealth of lost items, to not being able to detect at all because of the harsh salty conditions.
This is where multi frequency machines excel in being able to cope with harsh, salty ground conditions whilst maintaining depth and target information. I have an article on multi frequency technology here.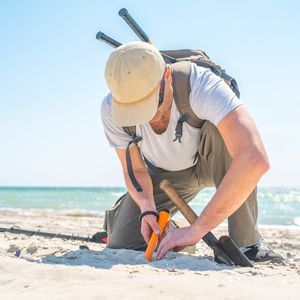 Maximising your time and increasing your output can be achieved by good technique and using the proper kit that has been designed for a specific purpose.
I'll apologise now for being a construction site manager! A scoop, specifically designed for beach metal detecting will allow you to achieve this.
Depending on the model or type you choose can also reduce the amount of labour on your body. Read my related article on underwater metal detecting here!
Beach metal detecting and in fact land metal detecting can take a toll on your body when you're detecting all day. I do actually have an article on some metal detetcing tips and tricks that can help here.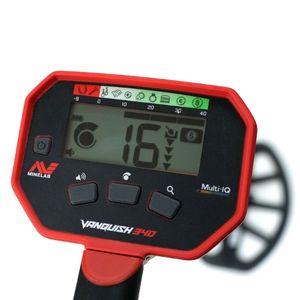 Unbeatable Multi Frequency!
You can now get the ultimate power of multi frequency technology over single frequency detectors with the Minelab Vanquish range of detectors.
The entry level Vanquish 340 now gives you ultimate depth, stability and sensitivity on all target types in every soil, including wet beach sand.
What is a beach metal detecting sand scoop?
In it's simplest terms, a metal detecting sand scoop is a conical or tubular sectioned scoop fabricated from either toughend plastic, stainless steel, aluminium and even carbon fibre!
The scoop has preformed holes to let either dry sand flow out or wet sand to be washed out at the surfs edge. This effectively sieves out the fine sand leaving the metal object behind.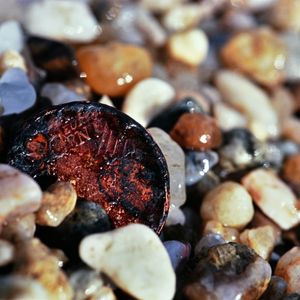 The scoop will have a pointed front edge to make for easier insertion into the sand as it gets more dense at larger depths, especially so in dense wet sand.
For this reason, it is vital to choose a good quality scoop to prevent it deforming or breaking completely in denser wet sand.
Sand scoops for beach metal detecting can come as purely hand held or have an extension handle attached.
The latter can massively help you by avoiding the need to bend down as much.
The handles can come in various sizes from a shorter knee high type to longer chest height varieties.
Looking for a removable handle can have obvious travel and packing benefits.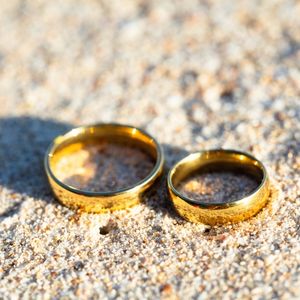 The extension handle types can be pushed into the sand with your foot and one hand on the pole making retrieval of finds much easier and quicker.
Plastic scoops can deform in more dense sand.
Finding the best metal detecting sand scoop you can for your budget can most definitely be seen as an investment.
It will allow you retrieve coins and jewellery much faster and will pay for itself quickly.
There is no greater sound than hitting a target, pushing your scoop into the sand and then shaking out the sand to finally hear the jingling of coins or jewellery left in the scoop!
I also have a helpful article on Beach metal detecting in the UK here with some top tips!
Which material should I choose?
Plastic sand scoops
The main advantages of plastic sand scoops are that they are totally accessible because of their low cost. They tend to be only available in hand held types and are really most suited to dry sand.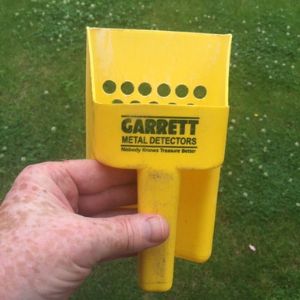 This makes them perfect for shallow beach finds on dry sand but as any losses get deeper, below the dry sand, it can make it more difficult to push the plastic scoop in.
Plastic sand scoops also tend to have squared off leading edges due to this exact nature of scooping dry sand rather than digging wet sand.
Of course, this is made worse if you discover rocks or pebbles under the sand. Plastic sand scoops can deform and twist which isn't helpful.
Being only a handheld type, you will find yourself bending down more. That being said, I own a Garrett type plastic sand scoop so I also need to take a shovel with me to get to the deeper targets.
When the target is out, I then use the scoop. It is harder work but it is a work around for plastic scoop owners. I have an article on choosing the best metal detecting shovel here.
Aluminium sand scoops
Aluminium sand scoops are the next stage up from plastic sand scoops. The advantage of aluminium is that it's lightweight yet extremely robust. These now progress into scoops that'll dig, not just scoop.
These types of scoops work well in all sand types, wet or dry and will have a more pointed leading egde eluding to it digging deeper. It should easily go through compacted sand, shells and small rocks.
These are a popular choice due them being lightweight, stronger than plastic and have optional handles available. Their corrosion resistance is very good also if looked after.
Stainless steel sand scoops
These types of scoops really are the top end when made from this durable material but due to this are a little more expensive.
These types are extremely robust and you would have to put them through some serious situations for them to bend or fail. This can make them heavier than plastic and aluminium sand scoops.
Being made of quality stainless steel means that they won't ever rust and will resist salt water corrosion. They will also come with a variety of handle length choices.
Their robustness means that they can easily be forced into dense sand and rocks with a foot without any worries.
Carbon fibre sand scoops
These are a very new concept and have all of the benefits of stainless steel sand scoops but have hardly any weight to them. This does make them extremely expensive however.
Best sand scoop for beach metal detecting
Budget – Garrett Metal Detectors Plastic Sand Scoop
What's great:
Lightweight and portable
Cost effective
Perfect for shallow dry sand
What could be better:
Fit for design purpose intended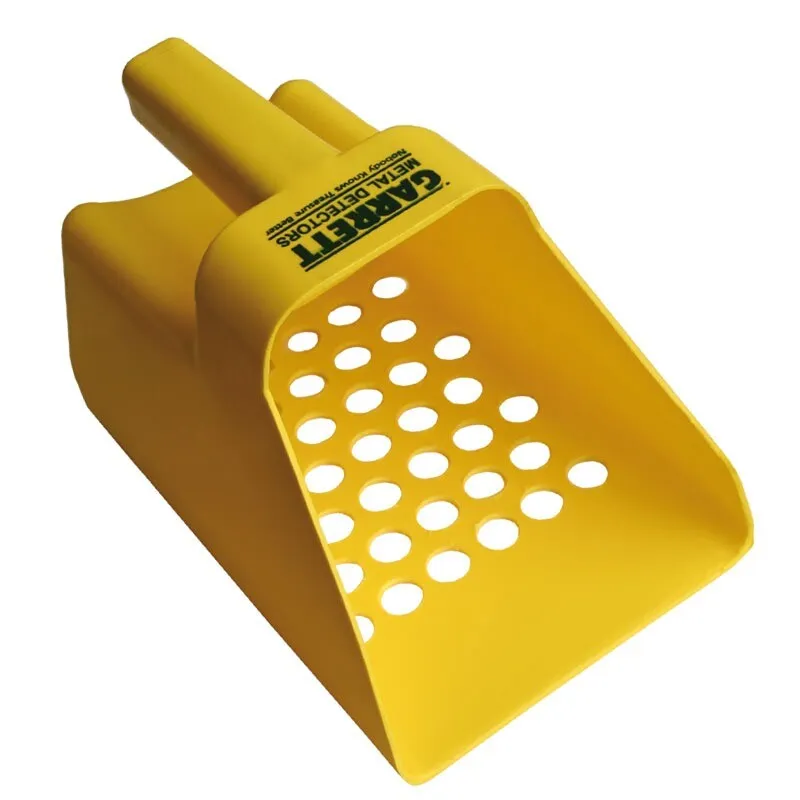 The tough yet lightweight plastic sand scoop from Garrett is perfect for the purpose it's been designed for. Therefore you cannot be too harsh about its performance.
I actually own one of these and it's a lot more robust than it looks in the pictures. It really is intended for use on dry sand scooping and sieving out those loose coins and lost jewellery just below the surface.
If you wish to extract targets at deeper levels in more compacted sand, you'll need a separate shovel and then use the scoop to shake out the target.
You can find a great Garrett plastic sand scoop on Amazon here.
Mid Range – Spritool Beach Sand Scoop
Top End – Evolution Stainless Steel Pro Scoop
D Shaft for Evolution Pro Scoops
Final thoughts
Okay, we've covered some great points here regarding metal detecting sand scoops. We've discussed that they can be made from plastic, aluminium, stainless steel and sometimes carbon fibre.
They can be purely handheld or have a detachable handle and a spigot attachment for a long handle. Handheld scoops are generally for the more dry and loose sand where losses hide just beneath.
The metal variations are more commonly used to get beneath this dryer layer and into the more dense, wet sand or small rocks where finds are lost at the surfs edge.
The main benefits to owning a sand scoop is that your finds recovery rate is massively improved and they also save the wear and tear on your body from bending and crouching constantly.
Due to your finds rate being more efficient, you can effectively re-coup your outlay for the scoop faster. I hope this has been of help……stay safe and happy beach hunting!