Best metal detecting shovel
Metal detecting spades or shovels differ greatly from DIY or garden shovels. Metal detecting spades have much smaller heads which are curved and tend to have serrated edges for cutting through roots.
Their precise nature ensures that small plugs can be dug making them easier to replace.
Choosing the correct accessories to assist you when metal detecting can be quite daunting. Personally for me, like anyone first venturing out, I didn't want to look like a wally having all the wrong or inappropriate kit.
Looking like you don't know what you're doing is okay, we all have to learn and there are always people that will help.
It's more like the wrong kit will seem to lengthen your day or just make things a lot more difficult.
The whole purpose of me starting this blog was to impart my knowledge to anyone who wants to start this fantastic hobby…..warts and all, no matter how embarrassing!
So let me tell you about when I first started and how embarrassed and mortified I was at my first metal detecting rally…..don't laugh!……advice?…..find a metal detecting club near you!
So there I was, I'd paid for my ticket online and had access the rally to which I turned up early in the morning to attend. I was full of beans and really excited about the prospect of finding something great.
First embarrassing moment, (which I've spoken about in a previous article about choosing the best metal detector for beginners here).
I was stood there amongst what looked like many seasoned detectorists with my cheap, Chinese detector that I was caught out buying. Yes….I fell for it which is why I don't want you to!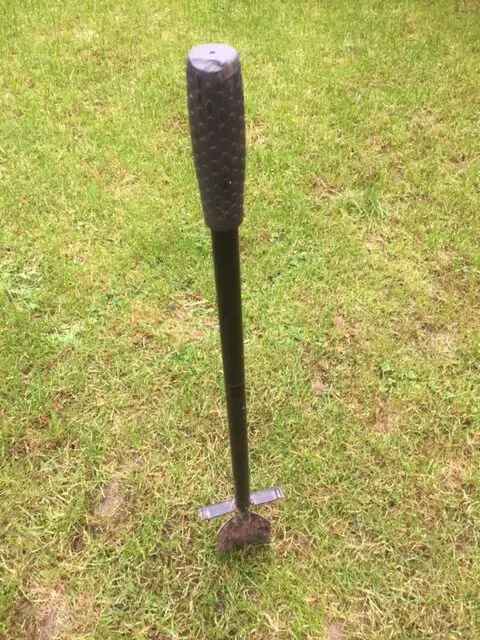 I had many funny looks and after struggling for an hour or so, a fellow kind detectorist took pity on me and let me borrow his backup detector which was massively better than mine.
I later threw mine away!
Second embarrassing moment?…..I had with me a cheap army style folding shovel which was absolutely rubbish.
For a start it was way too short and also bent and twisted on its first outing. That got thrown away also.
So, all in all, a total waste of money and why I want to write this. I don't want you to waste your money, get caught out or get embarrassed.
The moral of this story is that with most things in life, and that also includes the hobby of metal detecting, you get what you pay for. If you buy well, it will last you years and serve you well.
Buying a good quality specifically designed metal detecting shovel will speed up your target recovery and save you from a lot of additional stresses related to awkward digging.
Best metal detecting digging tool
Within the metal detecting world of accessories, there are a number of specifically designed spades or shovels that fit a situation but all have subtle differences.
It all boils down to personal preference and also your physical characteristics.
I personally have two specifically designed metal detecting shovels. I have a Black Ada Invader and a stainless steel Spartan, both manufactured by Black Ada.
These guys are one of the most well known manufacturers in the detecting fraternity for quality, amongst some others like Evolution.
Although technically a spade or shovel is a digging tool, the terminology can also stretch to the smaller, hand held digging tools for more precise target extraction.
You can read my article on smaller metal detecting digging tools here.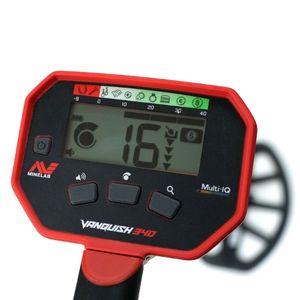 Unbeatable Multi Frequency!
You can now get the ultimate power of multi frequency technology over single frequency detectors with the Minelab Vanquish range of detectors.
The entry level Vanquish 340 now gives you ultimate depth, stability and sensitivity on all target types in every soil, including wet beach sand.
Best metal detecting spade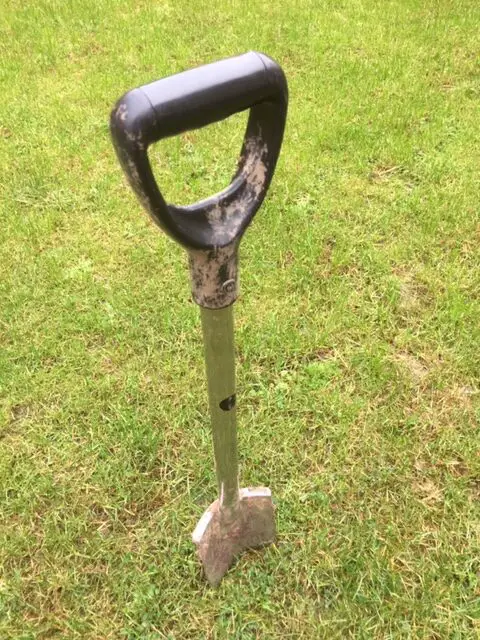 So, what must you consider when looking for a metal detecting shovel? The things to consider are if you prefer a straight shaft handle or a traditional cupped handle.
Would you like an additional foot peg to make pushing the shovel in easier?
This also prevents any thinner shovel edge parts slicing into the soles of your boots. A worthy consideration!
How tall are you?….do you require a longer handle? I'll be honest, my two shovels I own, I like them both for different reasons.
I like the Black Ada Invader because I'm 6' 2" tall and it has a longer handle. This means that I can drag it along rather than carrying it.
The stainless steel Spartan I love because of the cupped handle and the way it feels but if I'm honest, it's a little too short for me so I end up carrying it.
It's not really a problem and I use it all the time but it all boils down to personal preference. My ideal solution would be to have a cupped handle on the black one!
You'll notice that my shovels will indicate how specifically designed metal detecting shovels are. Do you notice how curved the heads are in the photo's?
This differentiates them from gardening or DIY shovels. They are curved so that after a target is pinpointed, you can cut a perfectly round plug out of the ground by working around in a circle.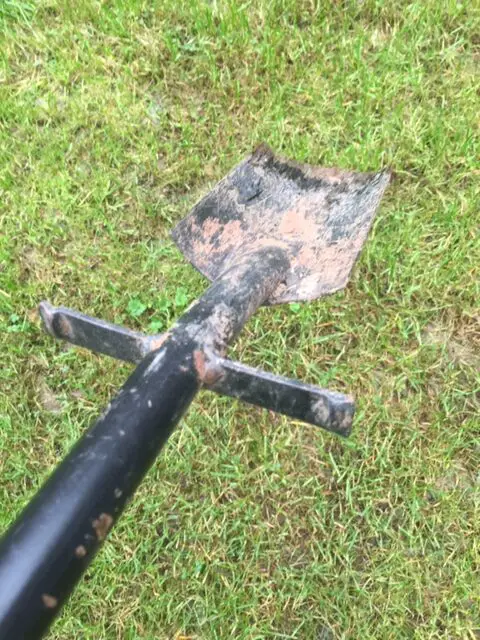 This keeps landowners very happy because you must always try to leave any land you have permission for as you found it.
Failure to do so could mean you lose your permission.
Some shovel heads come with serrated edges to help saw through root systems.
This could be very useful if you intend to detect in woodlands and old footpaths.
Shovel weights may be important to you also. Most of them don't differ that noticeably in weight.
Not enough to cause an issue in my view but you may want a lighter one. If this is the case, it reinforces the need to go for a quality brand so you know it's been tested thoroughly.
Finally, you may have a view on the size of the shovel head you want. Personally, I like to keep things neat and tidy so I tend to go for the smaller curved heads to keep my plugs in the ground nice and neat.
Whatever you go for, please don't get drawn into getting a folding army style shovel. Some metal detecting blogs will recommend these but in my mind, they just don't know what they're talking about.
It'll break and won't last….plus you'll look like a wally…. like I did!
DIY metal detecting shovel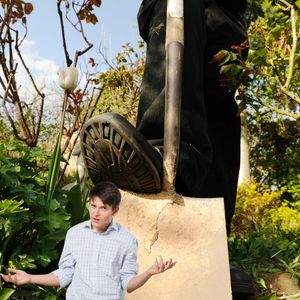 There can be a temptation to go to your garden shed or garage and grab your trusty DIY or garden shovel.
I've seen these guys lugging them around on a dig and feeling sorry for them. They are just far too heavy and the heads are far too large.
They are okay for turning over large amounts of soil in a garden but not for metal detecting.
They just are not designed for the precise nature of metal detecting and will be too cumbersome.
Metal detecting spade UK
So, armed with all this knowledge of what to look for and what to watch for, the recommendations below are really the only ones I would go for.
These manufacturers are the tops in their field and very well known in the detecting world.
The quality will be second to none and they will last you years. I will recommend a mixture of types so hopefully, one will suit you perfectly.
Black Ada metal detecting spade
Black Ada Invader Long Black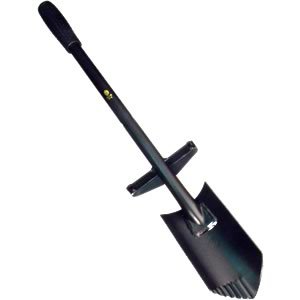 What's great:
Super long shaft at 890mm (89cm)
Step pegs for ease under foot
Cutting edge for tackling roots
Rustproof
What could be better:
No significant drawbacks
The Black Ada Invader is the shovel I own currently and have done for years now. This version has the slightly longer shaft than mine which would be even more perfect for me anyway at 6′ 2″.
This can also be used as a walking aid whilst detecting. The 890mm (89cm) shaft is coupled to a curved 85mm head.
I love this head because it cuts curved soil plugs perfectly round making ground reinstatement a breeze. It also has a serrated head for slicing through root systems easily.
The foot pegs are a really great feature and make it very easy to add additional downforce in tough soil. It also saves the soles of your boots getting trashed!
I have owned mine for years and it's not rusted at all. It's very robust and will last you for years like mine has.
Evolution metal detecting spade
Evolution Pro Cut Stainless SE Spade
What's great:
Long handle reduces bending
Made from stainless steel
Very strong & robust
Folded foot rests & serrated cutting edges
What could be better:
Great piece of kit but slightly more expensive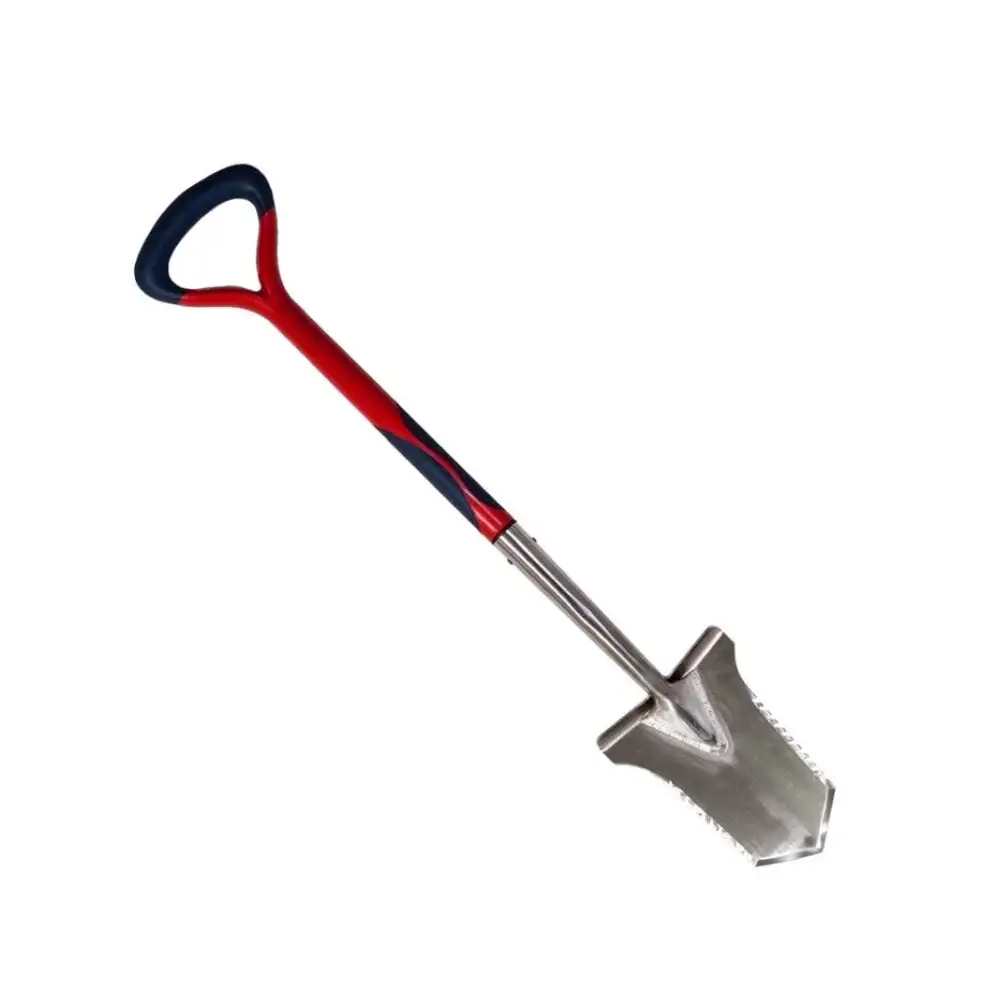 The Evolution Pro Cut had to be put in as a recommendation. Many of my fellow detectorists use this particular model and have nothing but good words to say for it.
It is a little more expensive, not much but what you get is one robust piece of kit that looks the business! The cutting edges absolutely rip through root systems on woodland pathways allowing you to extract those purse losses.
The longer shaft at 960mm means that digging is much easier due to the reduced bending and increased leverage.
The feedback from friends who use these is that it's one tough cookie and at no stage have they ever thought it would break!
Pro Cut Evolution T Spade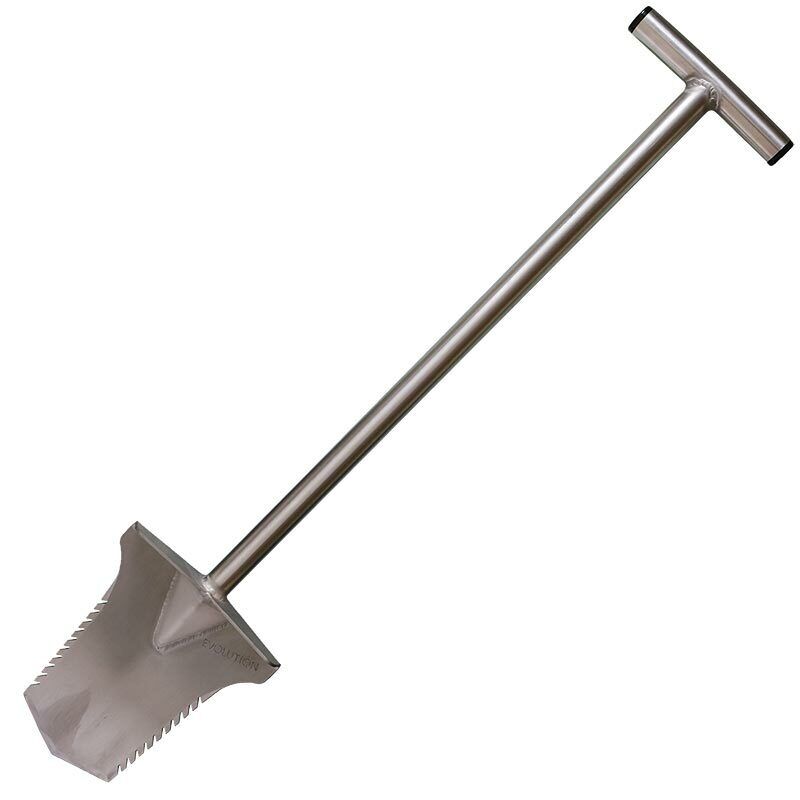 What's great:
T shaped style handle
Strong stainless steel
Serrated cutting edges
What could be better:
Can feel a little heavier due to its robustness
The Evolution Pro Cut T handled spade gives you another handle option with the same build quality. Due to the quality of its stainless steel, it's ideal for use both for inland and for beach detecting.
The Pro Cut T has a unique toothed blade capable of cutting through most root conditions. The Pro Cut T shaft length is 84cm and the blade length is 24cm.
This makes it very comfortable to use all day.
Best metal detecting trowel
Whilst we are on the subject of digging, there will be times when you've opened up a hole and are using your pinpointer. (You can read my metal detector pinpointer UK article here!)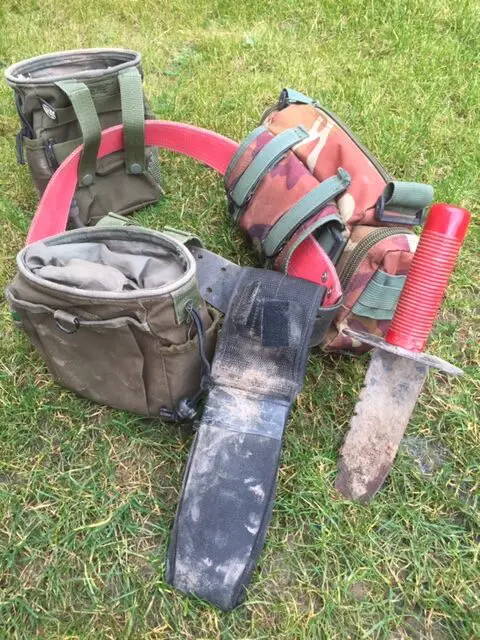 A shovel can be useful but not in these circumstances when you need to be more "surgical" to extract what could potentially be a really important or valuable find.
These could either be in the side wall of a hole or lie a fraction deeper in the base of the hole.
This is where a metal detecting trowel or Lesche digger come into play. These specific tools help you to fine tune your final extraction of your target.
I have some photos here of my Lesche trowel on my utility belt along with my "Molle" pouches and rear essentials pack.
The pouches and rear utility pack carry all of my essentials so I don't get caught out in the middle of a field and have to return back to my vehicle!
One pouch carries my dug rubbish for responsible disposal later and the other is for my good finds. Most trowels come with serrated edges so they can slice through roots if you need to.
I would say that a trowel is an essential piece of detecting kit. I can't remember the last time I saw a detectorist without one. You can find a similar digger like mine with a holster over on Amazon here.
Final thoughts
Okay, so let's recap! We've discussed how important it is to choose the correct shovel and why metal detecting shovels are specifically designed for purpose as opposed to ordinary garden or DIY shovels.
We've also touched on the ergonomics of these shovels like shaft length, foot pegs, T shaped, straight and cupped handles etc.
We've also talked about how important build quality is and to stick to well known brands within the detecting community.
Why not read my article on how to find a farmer who allows metal detecting here.
We have also talked about what to avoid…..flimsy folding army style shovels and big garden spades! I finally put forward some quality suggestions for you. Good luck and happy hunting!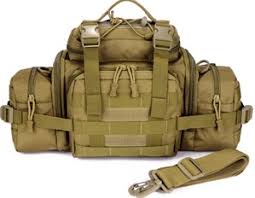 Ultimate Tactical Packs!
Carry everything you'll need for a detecting day like a First Aid kit, detector spares, finds boxes, batteries, snacks and drinks to rehydrate.
Never forget anything again with a belt pack!