Waterproof metal detectors
Underwater metal detectors can be a huge source of fun and can also produce some amazing finds that could change your life. Visions of finding lost treasures in the sand is incredibly compelling!
I did want to desperately write this article because after looking at several articles on this subject, I was dumbfounded with the amount of incorrect information out there. I hopefully want to clear this up.
Lost items in an underwater environment can mostly consist of jewellery and watches. These types of items are very easily lost for a number of reasons.
The main losers of lost jewellery are ambitious bathers, shallow water swimmers, surfers, boogie boarders, paddle boarders or kayakers.
The main reason jewellery gets lost is due to the cold water environment. When your body gets immersed in cold water, extremities like fingers shrink due to the reduced temperature.
This then causes rings to slide off, especially if the rings are already loose or have had sun cream protection applied to them.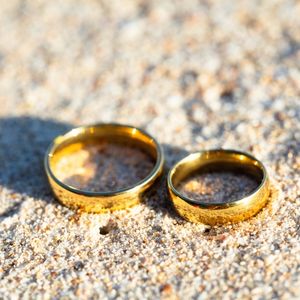 Another type of jewellery that gets lost are necklaces or chains.
When enthusiastic bathers decide to splash about trying to swim, fingers and thumbs get caught inside chains and snap or detach them.
Finally, expensive watches are often accidentally unlatched when caught by a finger or thumb.
Once rings, chains and watches plummet downwards into the sand, the only thing that will find them is a metal detector.
Many people who live close to beaches actually make a living from finding lost items. If the type of metal detector is chosen wisely, huge amounts of coins can also be found on the dry parts of a beach.
Best waterproof metal detector
Why choosing the correct underwater metal detector is important!
Metal detecting on beaches is different than metal detecting on land. Both beach and land, depending on where you live can be have its difficulties but beach detecting is a different animal.
Beaches are different due to the salty nature of the sand. This gets even more difficult when the sand is wet. Wet sand, to unsuited detectors can look like one huge target and cause it to go haywire.
It may even render a cheaper or non beach suited metal detector useless. The subject of beach metal detecting is quite big. You can read my further article on beach metal detecting here.
In a nutshell, metal detectors can be of a "Pulse Induction" type or a "VLF" (Very Low Frequency) type. The VLF type can then be subdivided into a "Single Frequency" or "Multi Frequency" type.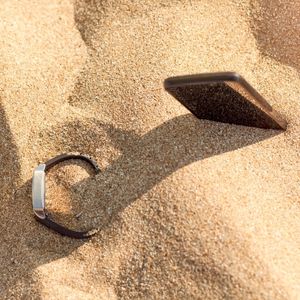 Pulse induction technology is used quite often in these situations as it is generally uneffected by ground conditions as it works differently to VLF technology.
Single frequency technology struggles but the way multi frequency works, it can gather a lot more data and carry out some complicated maths to compensate for tricky conditions.
The scope of metal detector frequencies is too large for this article however, if you are interested in learning more about this, you can read my article on multi frequency technology here.
Hopefully you're still with me!…..so, just to finish this bit, for several reasons, if you want to beach metal detect or detect underwater, you'll need either a Pulse Induction or Multi Frequency machine.
Both of these technologies handle salty beach conditions with ease allowing you find that lost treasure!
Side note! Why not find a metal detecting club near you here or read my article about how to find a farmer who allows metal detecting here.
Waterproof metal detector
Diving metal detector
Okay, so which metal detector do you choose?….it really depends on what you anticipate doing on the beach. Will you just be scuba diving or snorkelling and want a small handheld type?
Even if you aren't a fully trained scuba diver, there are some short duration pressurised snorkel systems out there. I have included a suggestion below to make holidays more exciting!!
The other angle to think about is getting a larger type traditional looking metal detector that can also be used out of the water….even on the land if you wanted.
The latter, the traditional looking detectors will be waterproof but only to a certain depth. This usually is about 3 metres give or take, depending on the manufacturer.
The small handheld types tend to be able to go much deeper but have certain shortcomings when it comes to discriminating iron or junk due to using Pulse Induction technology.
Another aspect that mustn't be forgotten is how you hear the audio signals given by the detector. Headphones must obviously be waterproof also!
Underwater metal detecting UK
Handheld underwater diving metal detector
Nokta Makro PulseDive Scuba Detector & Pinpointer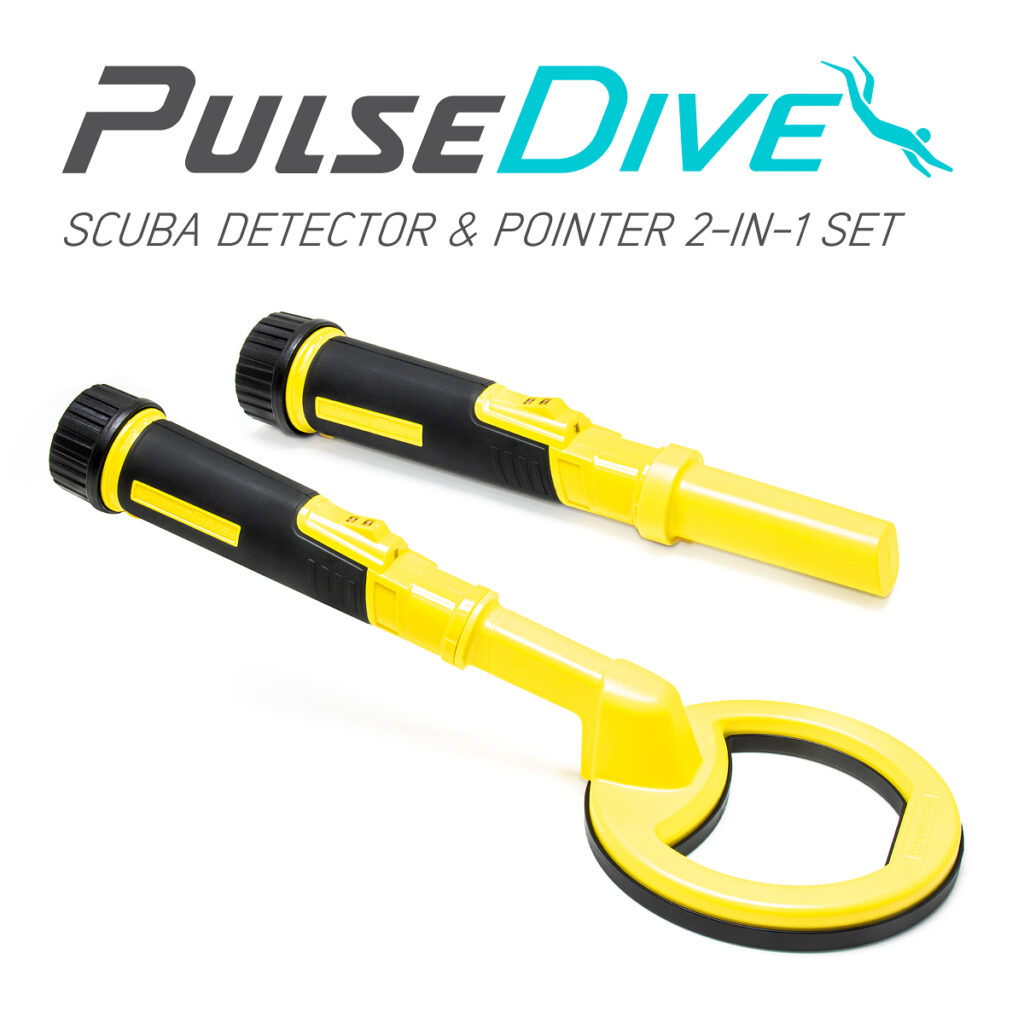 Top choice!
Pulse Induction Technology
Wireless compatible
Waterproof to 60 meters
Swap easily from scuba to pinpointer
Complete Set with accessories and hard-shell carry case
Coming from the manufacturer Nokta, you know this will be a quality piece of kit…and it is! Nokta produce quality metal detectors for different terrains and are big hitters within the industry.
The PulseDive Scuba Detector & Pointer is the ideal choice for deeper, scuba diving situations as it's waterproof up to 60 metres. The Pulse Induction technology ensures stable operation in salt water.
Technical features include a built-in wireless module that's compatible with the Nokta Makro 2.4GHz Green Edition wireless headphones. It also includes a replaceable hard case to prevent wear of the detector tip.
Features include a useful LED light for lower ambient light situations when you are hunting underwater. A diving mode provides easy operation under water by locking the keys and preventing the water pressure pressing in water during deeper diving.
The unit itself has only audio vibration and a vibration LED indicator but the in built wireless module utilises waterproof headphones.
The standard box system includes a cover plate, pointer cap, pointer safety cable, battery protection cap, USB cable for charging and manual.
Being of a Pulse Induction type, there will be no ability to discriminate any trash targets. All metal targets will give you a signal. In the situations where it'll be used however, trash would hopefully be minimal.
Scuba metal detector
Wedigout Underwater Handheld Pulse Induction Metal Detector
Best Mid Range Choice!
Pulse Induction Technology allowing hunting metal in saltwater.
Automatic tuning design requires no adjustments of any kind.
Rugged sealed construction designed and built to last.
Target vibration and LED indication
Waterproof to 30 metres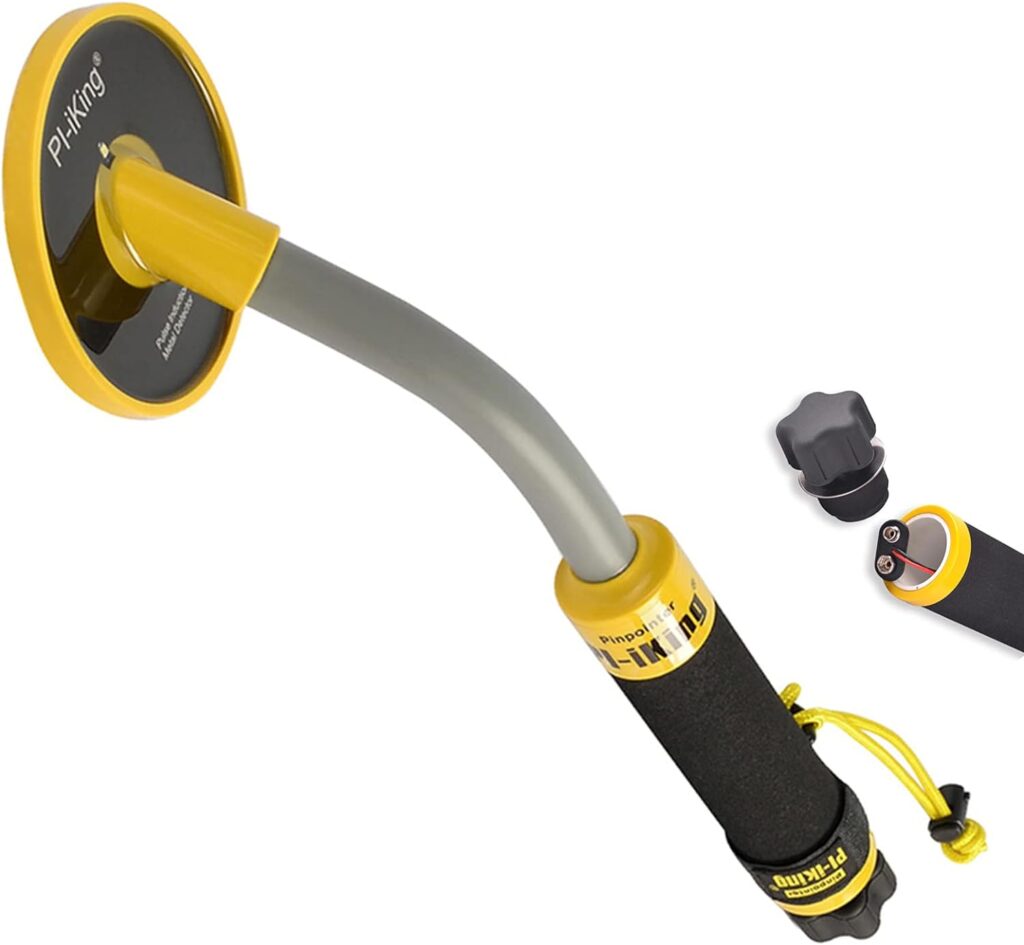 The PI-iKing from Wedigout is an excellent mid range contender to the Nokta Pulse Dive. It also uses Pulse Induction technology so handles saltwater and sandy conditions easily.
The sturdy construction is well built and includes stainless steel parts for strength so it's designed to stay the duration over several years.
The technology inside it provides stability in a tough detecting environment that needs no additional adjustments by the user.
Target identification is easy as the vibration function and LED light become more frequent the closer you get to your target. Unlike the USB charging of the Nokta however, it uses a 9v battery in a sealed compartment.
SHRXY Underwater Handheld Pulse Induction Metal Detector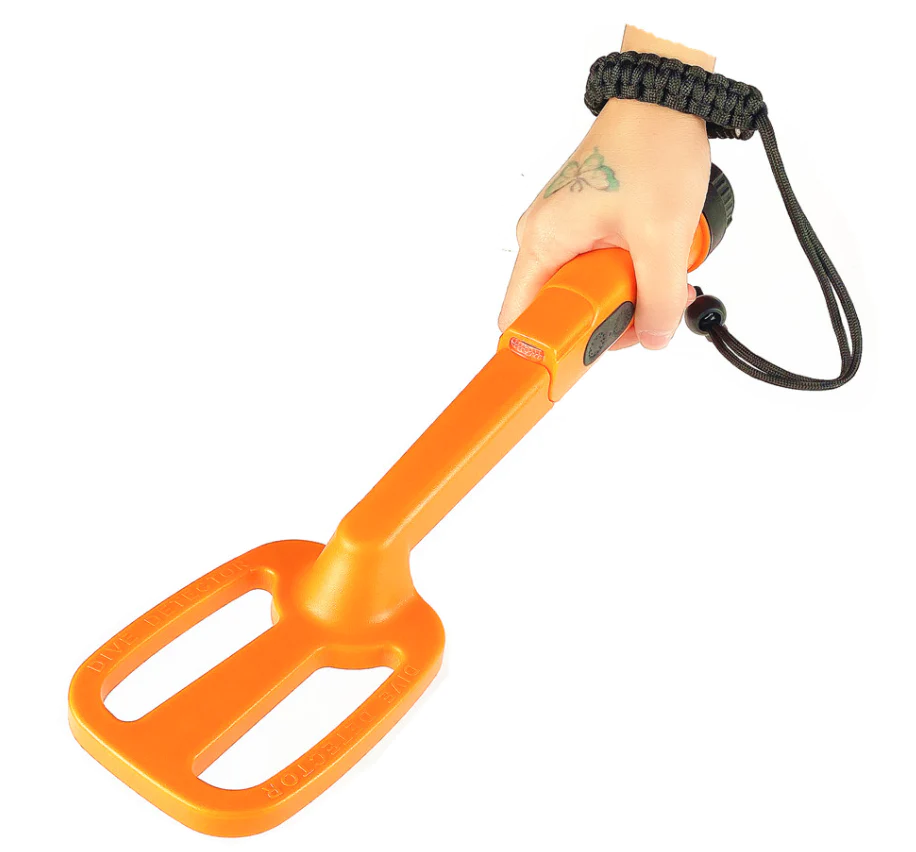 Best Budget Range Option!
Audible and vibration target indicators.
Alarms increase in intensity closer to the metal target.
Has a 4.7″ x 3″ coil
LED light assists in dark and low light conditions.
Waterproof to 60m.
The SHRXY is designed to precisely pinpoint metallic (ferrous and nonferrous) objects during treasure recovery. The SHRXY has both audible and vibrating alarms to indicate the presence of metal objects.
The alarms increase in intensity as the dive detector is moved closer to the metal target. The 4.7″x3″coil on the SHRXY dive detector is very effective in detecting even the smallest of metallic objects.
The LED light helps in dark and low light conditions. The SHRXY also has a diving standard waterproof rating, fully protecting it from the environment and allowing it to be washed under running water.
It can also be operated up to 60 metres deep. The SHRXY dive detector durability is based on
STD 81F and will provide years of reliable operation even in rugged environments.
Pressurised short duration snorkel system!
I've included this item as it could be a perfect alternative to a full scuba system and be ideal for making holidays more exiting with the handheld metal detector solutions.
Pressurised snorkel systems allow you to pressurise a small tank by means of a stirrup pump. This tank then feeds the pressurised air to a regulator allowing you to stay underwater for 15-20 minutes longer.
This would then give you longer detecting durations in shallower waters to find those lost items of jewellery.
Dideep Mini Diving Bottle Set 
Floating snorkel allows you to save pressurised air before diving.
1 litre tank gives approx a 15-20 minute dive time.
0.5 litre tank gives an 8-10 minute dive time.
Recharge tank via a stirrup pump or an electric pump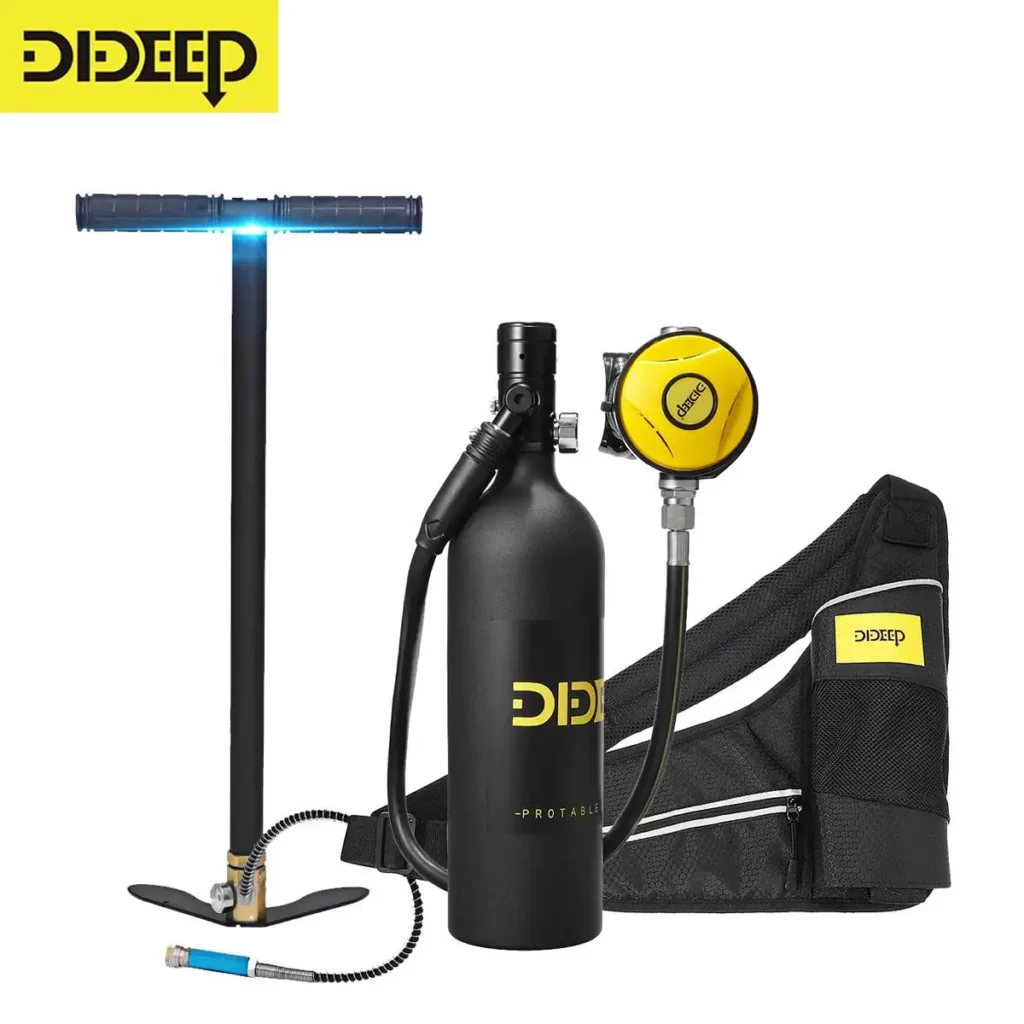 In summer, we often long for the sea, especially when we dive in. A portable self fill tank and regulator can increase the amount of time you spend underwater.
This system has a new upgrade, a floating snorkel. When snorkeling, it can be exposed to the surface and used to breathe. This can save the use of the oxygen cylinder and create a longer diving experience.
The diving tank has a capacity of 1 litre and can be used for approximately 340 underwater breaths at full capacity. It can be used for approximately 15-20 minutes of diving time.
The weight of the product is 5.07 pounds, comes with a portable bag you can easily carry and free your hands to do more things underwater.
You can use manual pump to inflate the scuba tank at any time or you can transfer the gas from the big bottle in a diving shop to the oxygen cylinder through the adapter which is included.
In addition, if you have an electric air pump at home, it will leave you more time when you arrive at the beach. Don't forget that you may need a wet suit. Find a wet suit on Amazon here.
Within the pack, you get a 1L capacity diving oxygen tank, carry bag, aluminum breathing valve (LL grade), hand pump, converter, adult diving bag, diving storage bag and an instruction manual.
Underwater metal detecting
10 Feet deep metal detector
As mentioned in my introduction, care must be taken when choosing a metal detector for specifically hunting on wet beach areas, within the surf and then progressing to be fully submerged.
Other articles out there by "so called" experts have put forward detectors that are totally unsuitable for these tasks and in many cases aren't waterproof!
Many detectors promote that they have "waterproof coils". This does not mean that they can be used underwater….only the search coil can. These are at home with their search coils in the surf and no more.
As this article is focussing on the underwater aspect of detecting, all of the metal detectors I will put forward here will be capable of being taken underwater to a certain depth.
I am putting forward two of the best multi frequency metal detectors out there currently. These two detectors will also be incredible performers on land also due to their technology.
To be honest here, there is not much separating these two detectors in regards to performance but if I had to make a choice, I would go for the Nokta Legend.
This is only due to the Legend operating 5 frequencies and the Equinox operating on 3 frequencies. (I currently use an Equinox 800 which operates on 5 but is marginally more expensive than the 600.)
Nokta Makro Legend WHP
Top Choice!
VLF Multi 5 Frequency technology
Waterproof to IP68 standard 3m or 10 feet
Target handle vibration mode
11 inch DD search coil
Specially designed beach mode
The Nokta Legend is one superb piece of kit! I won't delve to deeply into this machine within this article as I have another article which does a deeper dive into it. (No pun intended!)
Read my article comparing the Nokta Legend and the Minelab Equinox here.
The one great feature this machine has is the ability to indicate a target via a vibrating indicator in the machines handle. This means that technically, you don't need headphones if you wished.
This type of detector also gives you the advantage of being able to discriminate out unwanted metal targets like iron.
Fully IP68 rated, it has neutral boyancy and is waterproof up to 3 metres (or 10 feet) deep. It is also a brillant machine for use on dry land too!
Minelab Equinox 600 Metal Detector
Best Contender!
Three Search Modes
Simultaneous Multi 3 Frequency
Specially designed beach mode
Waterproof for up to 3 meters or 10 feet
Fast & Accurate Target ID
The Equinox series redefined all purpose metal detecting for the serious enthusiast by incorporating Minelab's famous "Multi-IQ" multi frequency technology.
Equally adaptable for all target types, ground conditions including underwater. The clear LCD features large target ID numbers so you can see your target ID at a glance.
All of the information you need when detecting is right there in front of you. Detect Modes and operating frequency can be instantly changed at the push of a button.
The Minelab Equinox 800 is the 600's bigger brother which is the detector I use. You can read more about the Minelab Equinox in my article called The Minelab Equinox 800 vs the Minelab Equinox 600.
The only main difference between the Legend and Equinox 600 is that the 600 uses only 3 frequencies and will need a set of waterproof headphones as it doesn't have a vibrate feature.
You can get a pair of Minelab Equinox waterproof headphones on Amazon here.
Another main Minelab contender for the top spot is the Minelab CTX 3030 which is also fully submersible to 3m. Read my article on the CTX 3030 here.
Best deep underwater metal detector
Garrett Sea Hunter Mark II
Best deeper water choice!
Fully waterproof down to 200 feet
Comes with waterproof pinpointer
Pulse Induction technology
Comes with submersible headphones
The Garrett Sea Hunter Mark II underwater metal detector is the choice for deeper water scuba divers. This machine can cope with the higher pressures deeper diving presents.
It comes with an 8″ PROformance search coil, Pro Pointer AT, submersible headphones, belt pouch, batteries and one year limited parts and labour.
The Sea Hunter Mark II uses Pulse Induction technology however in this advanced machine, it has user adjustable discrimination for trash rejection or elimination.
This underwater metal detector is ideal for Beaches, Lakes, Oceans, and all Waterways. The Sea Hunter Mark II is advanced, lightweight, highly durable and easy to use.
The Sea Hunter's pulse induction (PI) circuitry provides excellent depth and enables you to find treasure without interference from salt water and most ground minerals.
The Sea Hunter's outstanding performance, custom-designed housing and multiple configurations make it superior to other underwater detectors available.
Microprocessor-based circuitry in the Sea Hunter provides greater sensitivity, faster target response and comes with Garrett's exclusive Discrete Target Elimination mode.
An 8″ epoxy-filled search coil and custom designed headphones, submersible to 200 feet, make the Sea Hunter Mark II highly stable and very versatile.
The Sea Hunter Mark II isn't cheap but it is the best choice for scuba divers looking to treasure hunt at depths of up to 200 feet.
Final thoughts
Okay, in this article we've covered the two main types of metal detector you need for underwater treasure searching. These are a small handheld type and a bigger, more traditional looking metal detector.
We have also covered briefly the two types of technology you need to look for when searching the tough environment such as saltwater beaches. These are Pulse Induction and VLF Multi Frequency.
If choosing the smaller, handheld wand type, you may want to spend more time underwater so I've thrown in a great suggestion to extend your snorkelling time underwater!
The final two, full metal detector solutions are two of the best detectors you can get with the latest technology. You will not go far wrong with these.
They will also be more helpful when detecting on the dry beach to scoop up lots of lost money and rings. A sand scoop is ideal for collecting loose money in the sand. Read my sand scoop article here.