As with many hobbies, there can be a multitude essential additional pieces of kit you need to carry. As metal detectorists are very often miles away from their vehicle, it's vital you have great carry packs.
Metal detector bags and carry packs can come in several forms. These include larger bags for carrying your detector, small to medium sized backpacks, tactical belt packs and combination leg packs.
You don't necessarily need all these items but most detectorists will have a combination of most of them in order to be self sufficient during a detecting day.
The combination will depend on personal preferences like if you wish to carry food, hot flasks, secondary wet weather gear, different sized search coils or even a small folding camping stool for breaks.
In many cases, it all depends on the durations you will be detecting and your personal needs. At the very least, a small amount of storage will be needed for essential spares so your day doesn't get ruined!
Let's get straight into it and get stuck into the most popular types of carry packs and bags.
Metal detecting back packs
SUPERSUN 35L Military Tactical Backpack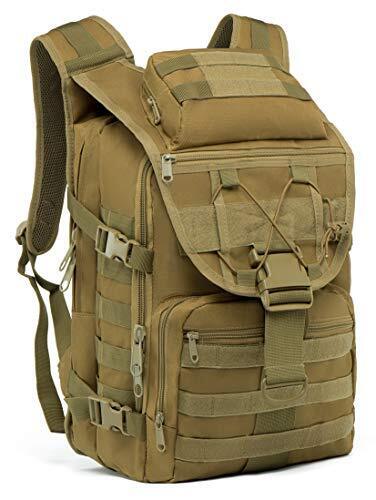 Military 900D nylon material with water resistant lining.
Has 3 main compartments and 3 accessories pockets.
The "Molle" system allows you to easily attach outdoor gear and additional tactical pouches.
Has breathable back padding, padded mesh shoulder straps with D-ring attachment points and a removable sternum strap.
The Supersun 35 Litre military back pack is just one in an extensive range but is ideal for the detectorist who wants to be totally self sufficient in the field. It has endless Molle customization possibilities.
This is due to the clever use of Molle webbing throughout for attaching additional tactical pouches or outdoor gear. Multiple compartments and accessories pockets means it can meet your detecting needs.
Breathable mesh shoulder straps, a padded mesh back panel and adjustable sternum strap make the backpack very comfortable to use all day.
A very well designed, well built and sturdy back pack in the range! For an even bigger look at the types, sizes, full body or cross body arrangements on tactical back packs, you can see them here on Amazon.
Metal detecting tactical belt packs
Huntvp Waist Tactical Molle Belt Pack
Military style specifications 900D nylon, durable and waterproof.
Multiple pockets are designed to tactically organise your kit.
MOLLE external expansion system is designed to be used in combination with other equipment.
Load pockets, water bottles, accessories and food.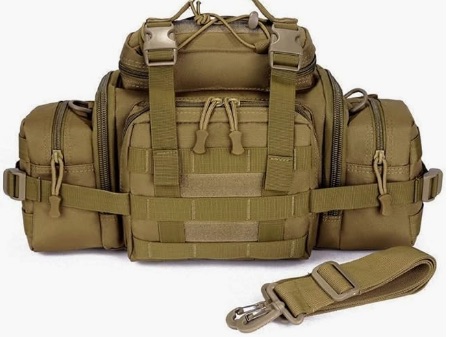 The Huntvp tactical waist pack in my mind is one of the best pieces of kit to have. I know because I've had one for ages and would never go out detecting without wearing it.
I use it to carry detector spares, a small first aid kit, a multi tool, pinpointer, coin cases, drinks and much more. It sits comfortably on your belt and is easily accessible.
I find that most of what I need during a detecting trip will go into my waist pack. It's strong, durable and has plenty of pockets to separate your items as you want them.
For more tactical belt pack variations and combinations, find great combo's over on Amazon here.
Metal detecting tactical leg packs
Huntvp Military Tactical Molle Drop Leg Bag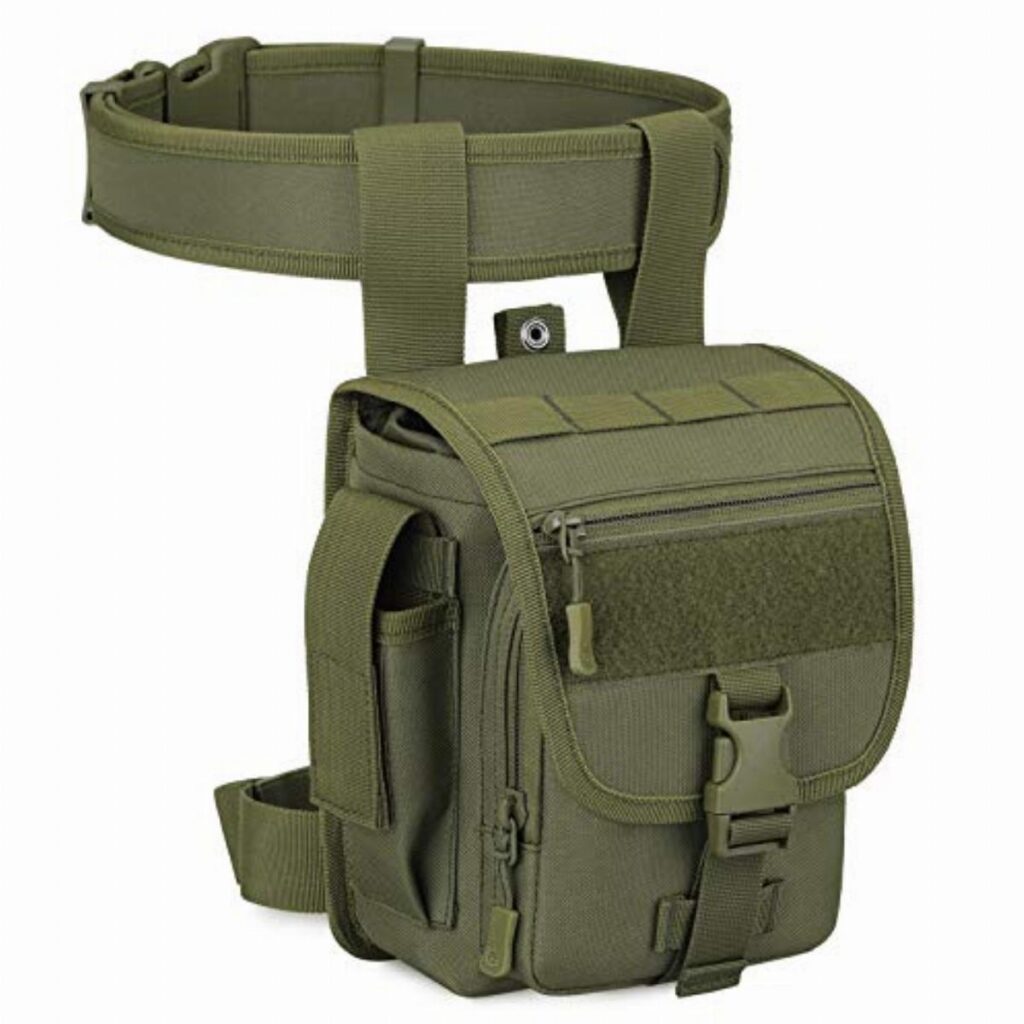 High density 900D nylon and canvas, quality ABS buckle- lightweight, durable material with adjustable, detachable straps.
Tactical 4 zipped pockets with separating compartments.
Comes with removable leg straps and a waist strap with adjustable quick-release buckle.
MOLLE system on side pockets to add additional accessory kits.
Again, coming from the well known manufacturer Huntvp, you know this will be a well designed and strudy piece of kit that will stand up to the job.
This tactical drop leg bag comes with the waist belt and the leg strap so there is no need to purchase anything else with this system.
Tactical drop leg bags are very popular amongst detectorists because they are very easily accessible and do not get in the way.
They are also positioned perfectly to attach a metal detecting pinpointer or metal detecting digging tool. The best thing about this drop bag range is the sheer amount of versatility.
The button link below will take you the tactical drop leg bag above but take a moment to view the massive amount of options you can get with the number of pockets and designs!
Metal detector carry bag
Metal Detector Carry Bag by Searcher
Has two external pockets.
Has an internal spade pocket.
Large, durable and padded to house any size of detector.
Handles and shoulder strap for extra portability.
Water resistant 800 denier polyester.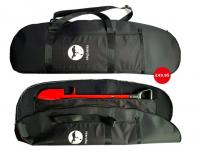 The Searcher metal detector carry bag is perfect for keeping your pride and joy protected. It comes with two external pockets and an internal spade pocket (it doesn't not include the spade!)
A well designed, large durable and padded, this carry bag will fit any size of detector up to a Minelab CTX3030. The internal zipped long pocket accommodates a metal detecting spade (typically a Black ADA Spartan spade or similar).
There are also two zipped out padded pockets for accessories or finds. Handles and a shoulder strap provide extra portability. Water resistance is from the 800 denier polyester. Dimensions: 1300 x 440mm
Metal detecting tactical vest packs
Huntvp Tactical Military Molle Vest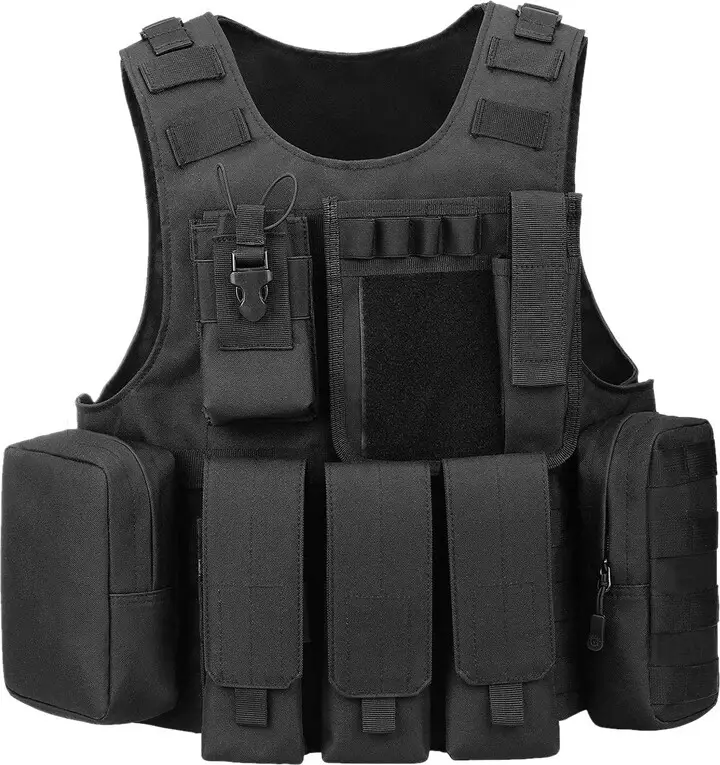 Durable military style spec 1000D nylon waterproof cotton lining.
Adjustable the height by shoulder velcro.
Adjustable width by waist velcro.
Incorporates the Molle System for additional Molle attachments.
Swap and change Molle packs to get the perfect rig.
I've thrown in at the last part of this article the Huntvp tactical military vest. Okay, this isn't a carry bag as such but still a very popular piece of carry kit in the detecting community.
Molle attachments can be swapped and changed so you can tailor make your vest to carry all of your essential pieces of metal detecting equipment you need throughout the day.
Totally adjustable to your body size and shape, the tactical vest doesn't interfere with you needing to dig or swinging your detector.
Final thoughts
Owning a suitable tactical back pack, waist belt pack, drop leg pack or vest can make your detecting day run smoother than having to struggle when needing to find essential kit.
It can also pay massive dividends when you're out in the field, miles away from your vehicle when you need kit.
I hope these suggestions were of use. For more information on how to break into the world of metal detecting, take a look at my additional articles on metal detecting for beginners.
Take care and happy hunting!