A metal detecting digging tool is also sometimes known as a metal detecting digging knife. This is a specially designed smaller trowel shaped tool that is used when more precision is needed to extract a target or object from a plug or hole reducing the chances of damage.
Metal detecting digging tools UK
Digging tools for metal detecting
So, as the opening paragraph outlined, a metal detecting digging tool looks very much like a small trowel that's used for gardening.
The main differences are that digging tools for metal detecting are specially designed for metal detecting and are considerably more robust, usually have a serrated edge on one side.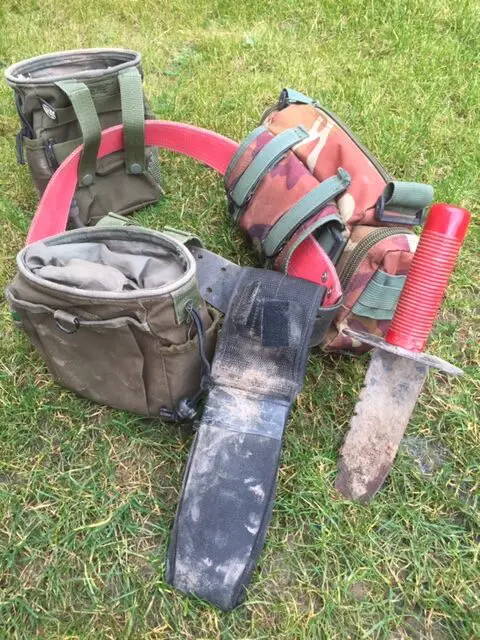 The serrated edge is used for sawing through roots to gain access to your discovered target.
This usually happens when detecting in more wooded areas with well trodden footpaths for example.
Other main differences are that specific digging tools usually have a more pointed tip. Gardening trowels usually are more rounded on their tips.
Having a more pointed tip allows you to really extract a find with precision without damaging a potentially important and expensive find.
The last thing you want to do is to have a find located and almost extracted only to scratch it right in the final moments.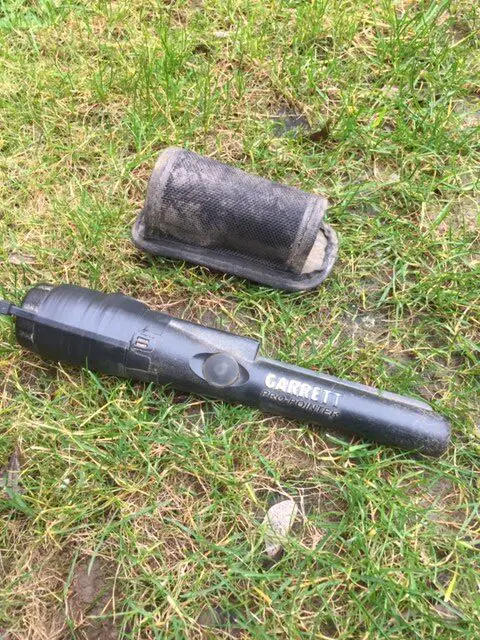 Metal detecting digging tools are used mostly in conjunction with metal detecting pinpointers or as they are also called, metal detecting probes.
I have a great article on metal detector pinpointers here.
One main difference between specially designed digging tools and gardening trowels is that digging tools for metal detecting will come with a robust holster.
This allows you handily thread or attach it to your utility belt that will also have your finds pouches on and maybe your utility pack.
Pouches and utility packs are really useful as they can organise your good finds, trash and any items you may need during your detecting day.
I have another article on these types of items along with more great metal detecting tips here.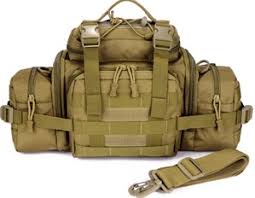 Ultimate Tactical Packs!
Carry everything you'll need for a detecting day like a First Aid kit, detector spares, finds boxes, batteries, snacks and drinks to rehydrate.
Never forget anything again with a belt pack!
Metal detecting digging knife
As with most hobbies, having the correct kit is essential. Buying cheaper, inferior kit can not only be a pain because it could potentially break in the field, it will also cost more in the long run to replace.
The best advice is to purchase the best kit you can within your budget. It will pay dividends and be more cost efficient in the long run.
The whole purpose of me starting this blog was to impart my knowledge and experience so I can hopefully empower anyone looking into the hobby of metal detecting to avoid the mistakes I made starting out!
When I started out, (and I'm cringing writing this!) I started out purchasing a cheap metal detector which I immediately regretted.
I also purchased a cheap, army style folding shovel (which some metal detecting blogs will shamelessly promote) which bent and snapped on the first trip out!
Please, if you read any other blogs that are suggesting these types of folding shovels, think twice. I also took a cheap gardening trowel which I had in my shed which consequently snapped also!
I talk about this in my article that helps choose the correct spade for metal detecting here.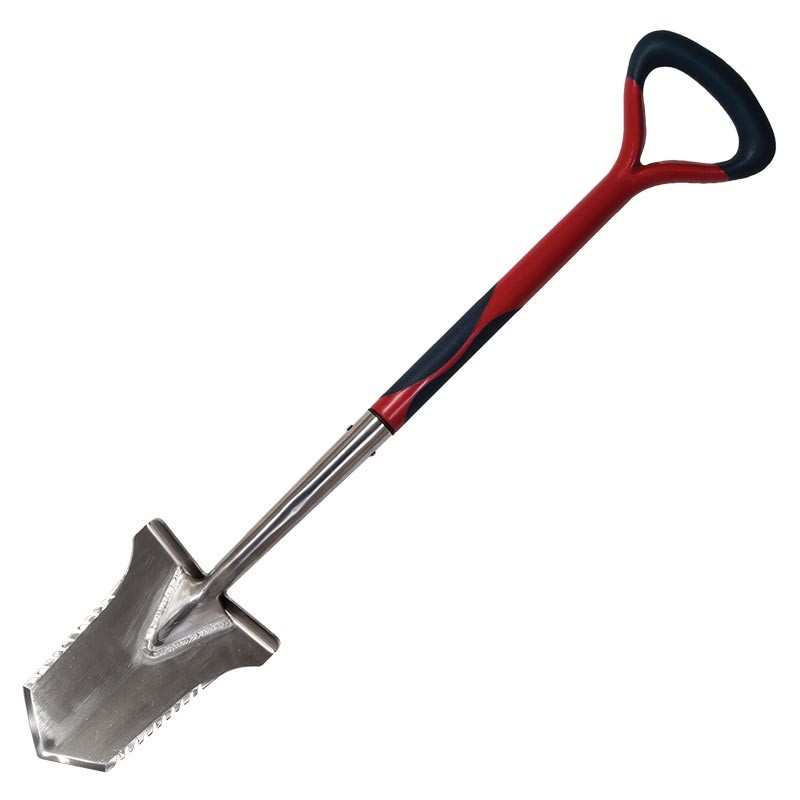 The Evolution Pro Cut
The ultimate accessary for the serious metal detectorist. Super strong, stainless steel specially designed spade.
Best metal detecting digging tools
Okay, we've covered why having a smaller, handheld digging tool is useful. They are more manageable, can be kept on your utility belt, can help cut through a root system and will help extract a find without damaging it.
The serrated cutting edges can also help you with recovering shallow finds. The serrated edge can be used to cut a small, circular plug that can be neatly reintroduced after you've retrieved your find.
It is vitally important to cut neat holes or plugs with your shovel or digger.
I have seen clubs and individuals lose permissions due to badly extracted finds and poorly reinstated holes. The implications of this to a farmer can be very costly.
Livestock can easily injure themselves in poorly backfilled holes and then require expensive treatment or even destroying.
Let's take a look at some great examples of smaller, handheld digging tools for metal detecting.
Hand digging tools
Finfever Multi tool 
What's great!
Stainless steel, rust proof
Multi functional
Comes with a carry holder
What could be better:
Serrated edge is sharp but could be a little sharper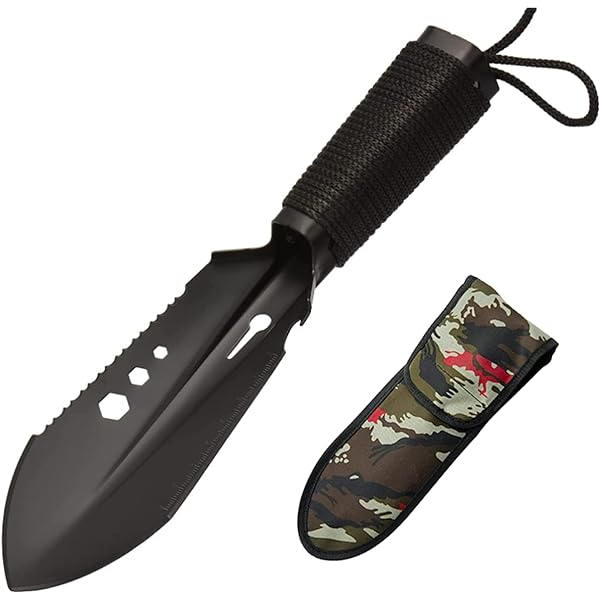 The Finfever Multi tool is our first offering and a great one for the price. It's multi functional uses include use as a small shovel, a hexagonal bolt spanner, a saw and a nail puller.
The handle is wrapped in paracord which can be removed and used separately if needed.
The handle is hollow to allow a timber stick or long handle to be inserted if ever needed. It's a real survivalists job! It's stainless steel construction makes it super strong and rust resistant.
The bonus is that it comes with the carry holster so it can be attached to your belt pack.
Garrett Edge Digger with Sheath for Belt Mount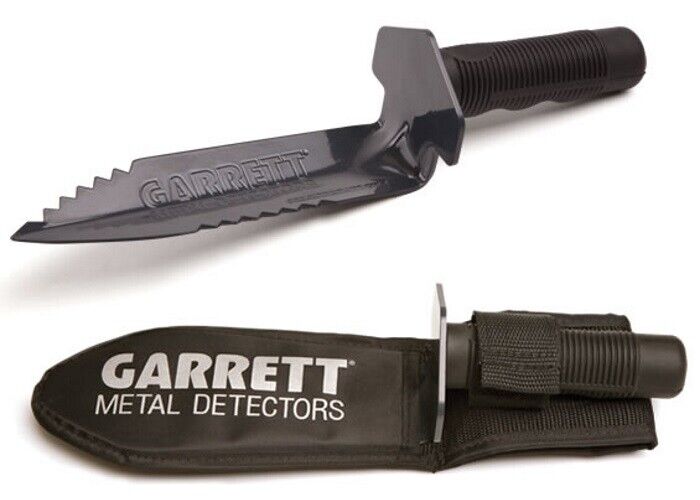 What's great!
Established brand
Purposely designed for detecting
Comes with a sheath
What could be better:
Sheath is good but could be slightly better
Coming from the Garrett stable, you know that this has been specially designed for metal detectorists as Garrett are well known in the business of detecting.
This digger boasts all of the plus points we first discussed at the beginning of our article.
It has the pointed tip for almost surgical precision when exposing a find and also a serrated edge to slice through any root system.
It's not made from stainless steel but it's still high grade nonetheless. This is one sturdy piece of kit that will not look out of place on your belt.
The Garrett Edge Digger also comes with it's own sheath to keep it handy, safe and locked in ready for when you need it.
Extreme Blade Evolution Trowel
What's great!
Full stainless steel
Twin serrated edges
Rock solid construction
What could be better:
Doesn't come with a sheath as standard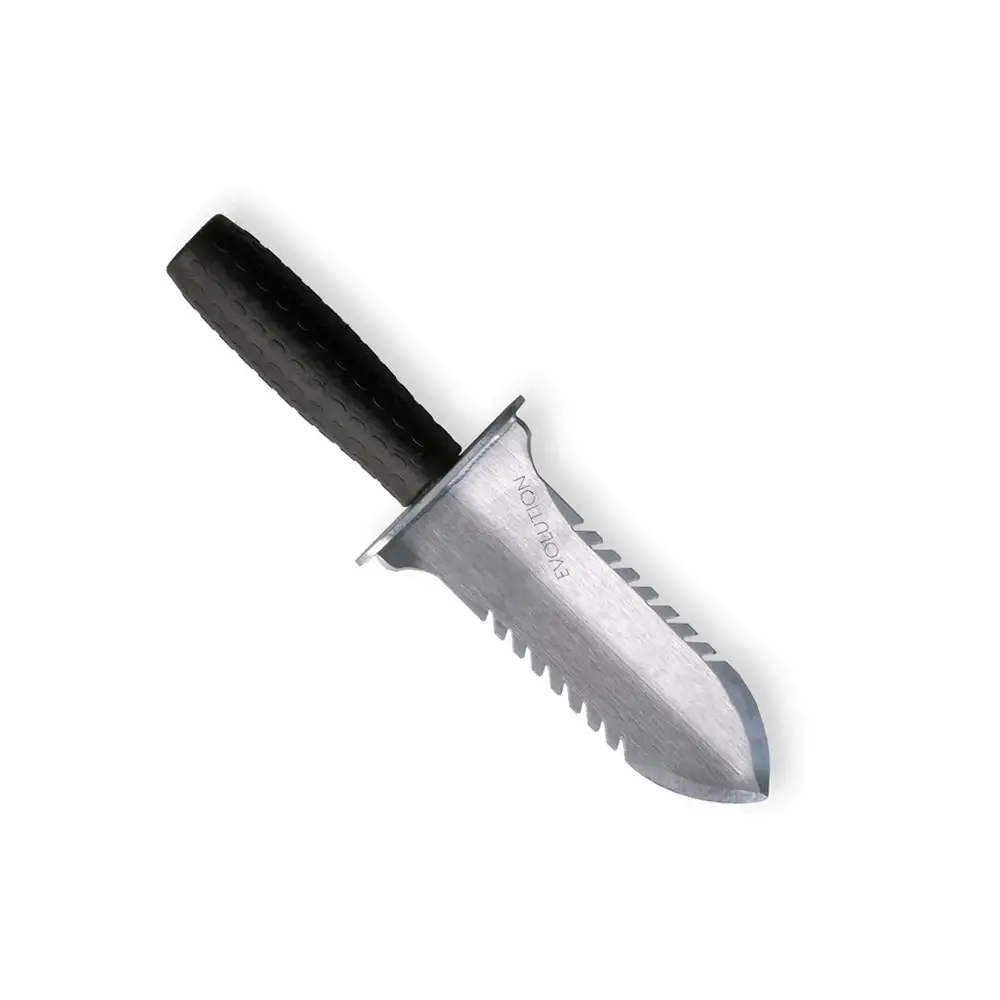 The Extreme Blade from Evolution is as good as metal detecting digging tools get. As mentioned previously in this article, Evolution also make exceptional metal detecting shovels.
The Extreme Blade is their side digger addition. Made from a rock solid construction of stainless steel, this will resist any corrosion and last you a very long time.
Unique to the Extreme Blade, it has twin serrated edges so you can cut root systems from any side or angle.
The only downside is that it doesn't come with a sheath or holster as standard but many detectorists just source one elsewhere as the Blade is a great piece of kit.
In fact, you can find a number of sheathes over on Amazon easily like these ones here.
Dr Otek Heavy Duty Digger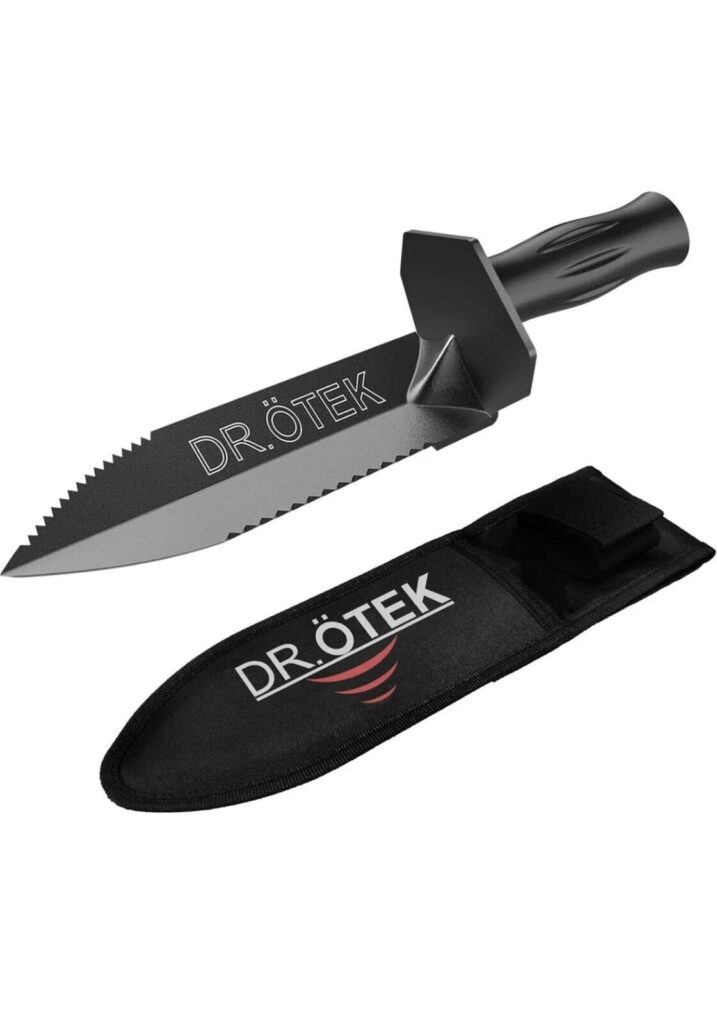 What's great!
Heat treated, strong manganese steel with double serrated edge
Rubber handle with an ergonomic non-slip design
Ships with a purpose made sheath with belt loop
What could be better!
Not much….an awesome piece of kit for the price!
The Dr Otek digger is the perfect accessory for metal detectorist. This digger will withstand high-intensity work extracting hard to reach targets.
The manganese steel and double serrated edges are heat treated and extremely strong allowing you to cut cleaner and deeper.
The digger does not flex or deform and is more durable than regular carbon steel. No more worrying about hard-to-dig targets during your treasure hunt.
This digger measures 13.4" x 3.5" x 5" and its rubberized, non-slip design fits the palm better. This makes it more comfortable and easier to grasp.
This tough tool also ships with a sheath to protect the edges when not in use. A belt loop secures the sheath to your utility belt and a second loop secures the handle to the sheath.
Weighing about 1.32lbs, it's the perfect accessory!
Hand digging tools – Final thoughts
Okay, to sum up our thoughts in this article, There are many benefits to having a hand held metal detecting digging tool on your utility belt.
When you have detected a target, carefully cut a neat hole or plug and removed it, the target may still either be in the bottom of the hole or in the sidewall.
You may then use your pinpointer to locate your target and maybe on this occasion, yes….it's in the sidewall of the hole. In these situations, a full sized shovel may not always be the best solution so most detectorists carry a digging tool.
You now have the precision to carefully pick out your find with more accuracy. This will also massively reduce the chances of you damaging your potentially important find.
I hope this short article has been of use and has given you some digger suggestions that fit your budget. Stay safe and happy hunting!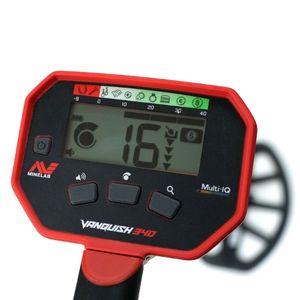 Unbeatable Multi Frequency!
You can now get the ultimate power of multi frequency technology over single frequency detectors with the Minelab Vanquish range of detectors.
The entry level Vanquish 340 now gives you ultimate depth, stability and sensitivity on all target types in every soil, including wet beach sand.