Metal detecting equipment
Metal detecting boots need to have certain characteristics to cope with the variety of different terrains a metal detectorist will encounter.
Boots for metal detecting will need to be lightweight, comfortable for long periods, waterproof, breathable, be metal free and give good ankle support on rough terrain to help prevent injuries.
Metal detecting footwear
Our suggestions at quick glance
If you're in hurry, you can check out the metal detecting boot suggestions later in the article from these links here. The best quality budget suggestion is the Jack Walker Walking Boot.
The mid range suggestion are the XPETI Waterproof Hiking boots and higher range suggestion are the Merrell Forestbound Hiking Boots.
Comfort
Metal detecting can very often last for several hours, especially if good finds are being made. This means that you'll want a boot that offers great internal padding so that it minimises any voids inside between your foot and the boots.
This will also minimise the chances of rubbing and consequently blisters. You would be surprised how much ground you will cover in a day, more so if you attend a metal detecting weekend.
It is vital that the boot is comfortable. One of the main things to look at is the thickness of the padded insole and the material it's made from.
If this is removeable, it's a bonus as they can be hand washed from time to time in order to remove smells and any bacteria that could cause foot problems.
This padded insole will provide support to the arches in your feet giving you sure footed confidence. Many walking or hiking boots have this feature as standard.
Waterproofing
Having a degree of waterproofing to your metal detecting boots is essential if you want your boot choice to perform in wet, wintery conditions as well as dry summer conditions.
There is the option here to have a "winter" boot and a "summer" boot if you wish.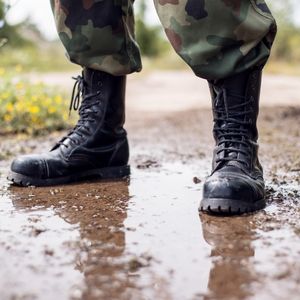 The alternative is to make a boot choice that will give you the best of both worlds. The one material that can do this is Goretex.
This material is revolutionary in the way it works.
Because water molecules are bigger than air molecules, the water cannot pass through the material as the micro sized holes are the same size as the air molecules.
In addition to this, having the correct clothing for metal detecting is a big thing generally. You can read my article on choosing some suitable metal detecting clothing here.
Metal detecting in the rain or after it has rained can really boost a detectors performance. I also have an article on discussing if you can metal detect in the rain here.
This then allows your feet to remain dry but also allows them to breathe. This will not stop them getting muddy of course in wet, muddy conditions but will only maybe spoil the way they look.
Many metal detectorists choose a Goretex boot for summer to take advantage of the breathable nature of the material and rubber type boot for muddy conditions.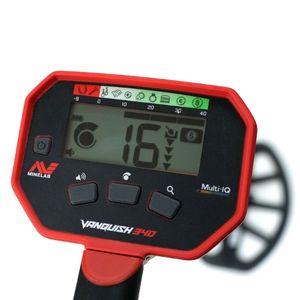 Unbeatable Multi Frequency!
You can now get the ultimate power of multi frequency technology over single frequency detectors with the Minelab Vanquish range of detectors.
The entry level Vanquish 340 now gives you ultimate depth, stability and sensitivity on all target types in every soil, including wet beach sand.
Durability
The terrain a metal detectorist will encounter can be varied and sometimes quite challenging. Therefore it's vital to choose a boot that you know will last.
I will give you some recommendations depending on budget but you do get what you pay for generally.
It really is false economy to go too cheap as they won't last, will be uncomfortable and you'll end up replacing them sooner rather than later.
It's worth spending that extra small amount that will give you that great confident feeling every time you put them on.
A great quality sole will pay dividends and also give you increased traction on something typical like short, wet pasture. A durable sole will also resist rocks and small stones cutting into them.
An additional feature like a rubberised external surround and extra protection to the heel and toe will also give your boots a longer life.
A quality boot sole and tread will also withstand the constant usage of pressing your shovel into the ground many times a day over the year. You don't want them splitting soon after you've bought them.
A quality shovel, specially designed for metal detecting will help here by having foot presses. You can read my article on choosing a spade for metal detecting here.
Ankle support
Often forgotten but great ankle support can save you from getting an injury without doubt. Varied terrains can include rough ploughed land where you are constantly negotiating soils ridges and ploughs.
You can also find unexpected rocks under soft soil which you can easily turn an ankle on. A good choice of boot will support your ankle by introducing padding which has been specially designed to be firmer to add support.
They very often have a tougher material around the top section of the boot to resist any rubbing from the laces when wrapped around the ankle to provide even more support.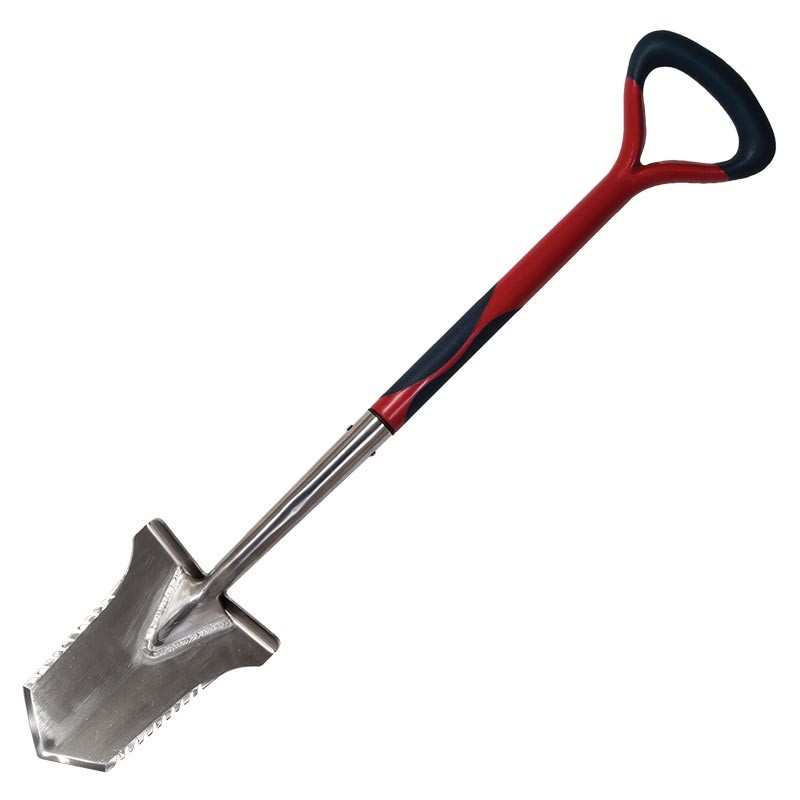 The Evolution Pro Cut
The ultimate accessary for the serious metal detectorist. Super strong, stainless steel specially designed spade.
Metal free
Having boots for metal detecting that are totally free of any metal components is an obvious advantage when metal detecting.
I think everyone has probably heard the joke about the metal detectorist digging holes everywhere and then realising that he's wearing steel toe capped safety boots!
Having boots that have no metal in them does give you peace of mind and there will be some blogs that will make a real issue of this.
The reality is, if you have boots that have metal eyelets for the laces, it'll probably be fine. I would think twice about steel toe caps however!
These metal toe capped types of boots are really best left for the construction industry. Having metal free boots for metal detecting really just gives you peace mind.
Best boots for metal detecting
Now we have covered what we need to look for in a good metal detecting boot, here are some of my recommendations that cover off all of the criteria that we've discussed.
We'll look at a budget boot, a mid range boot and a top end boot. We'll also take a look at the most comfortable and supportive rubber type boot for those wet, muddy conditions if you don't want your Goretex boots getting spoilt.
Just while we're on the subject of quality metal detecting kit, it's also very important to protect your hands. You can read my article on choosing the correct gloves for metal detecting here.
For even more information if you're just starting out, you can read my article on Metal detecting for beginners here and also my supplementing article on some metal detecting tips here.
Jack Walker Walking Boots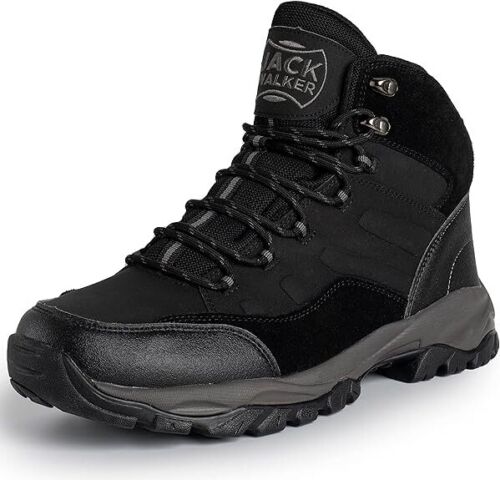 What we like:
Waterproof, Breathable & Lightweight
Great grip plus increased toe rubber protection
6 Month sole warranty
What could be better:
There are a couple of metal eyelets high up the boot but in reality, these will not cause any interference. (I have some on my boots!)
Starting with our entry level budget boot, we think that you can't go wrong for a sub £30 price point. These boots afford waterproofing and are breathable.
The soles have a deep grip pattern which will give you great confidence. The waterproof layering inside also keep the boots lightweight.
The breathable mesh layer allows heat and sweat to escape keeping your feet cool in hot weather but dry in wet weather.
Finally, inside the boot is a super cushioned insole which means that they can be worn all day and remain comfortable.
XPETI Waterproof Hiking Boots
What we like:
Very tough yet lightweight design
Incorporates X-Dry membrane and Thinsulate padding
Super high ankle support
What could be better:
Again, has a couple of metal eyelets high up the boot but these will not effect your detector.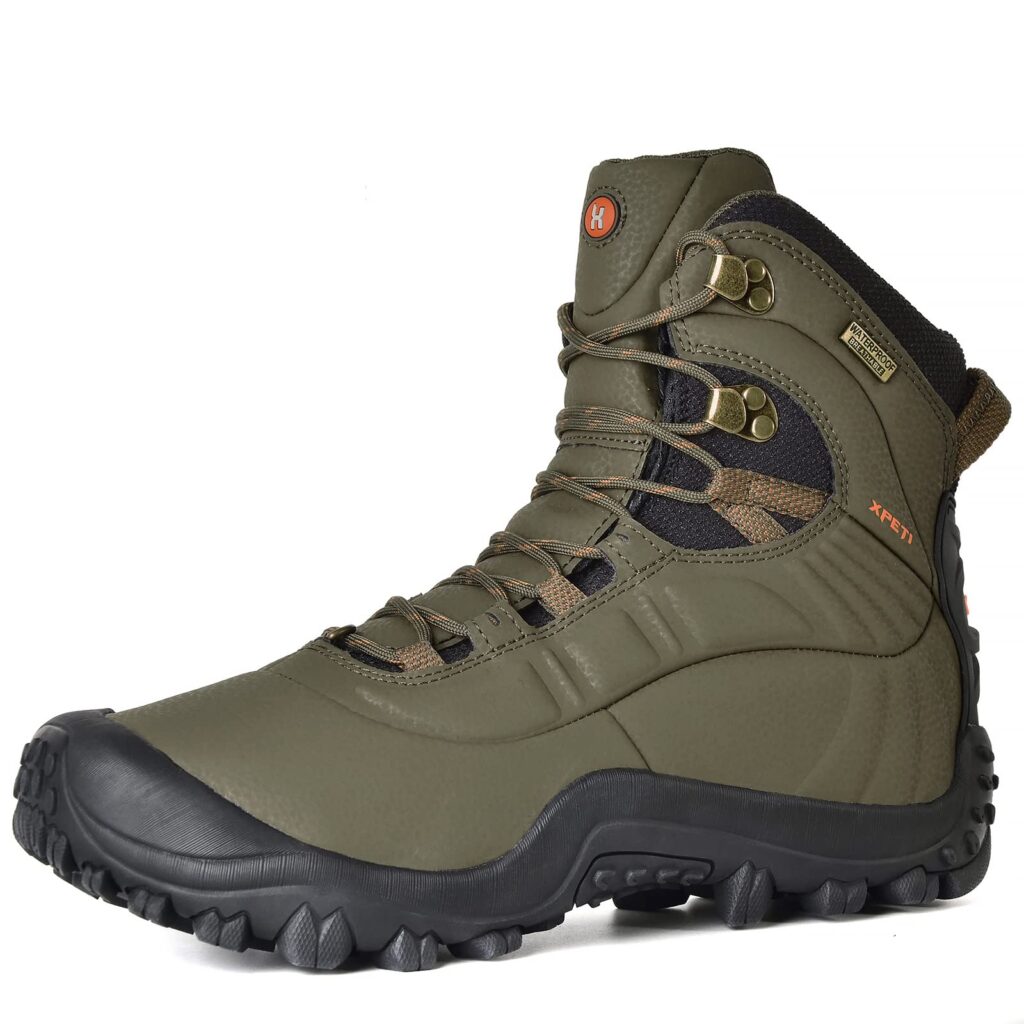 The waterproof and breathable hiking boots from the established manufacturer XPETI are our mid range suggestion for the detectorist (and our favourite!).
We really like these boots as they utilise a waterproof and breathable membrane called X-DRY. These again allow your feet to breathe but also keep them dry.
Even though they are super tough, they also remain lightweight. The deep grip pattern on the sole and the superb additional wrap around rubber to the toe and heel make these boots built to last.
Incorporating the famous "Thinsulate" padding, they also give you comfort and insulation. The feature we really liked on these was the super high ankle support.
When laced up, these really will help prevent any ankle injuries over rough terrain!
Merrell Forestbound Mid High Rise Hiking Boots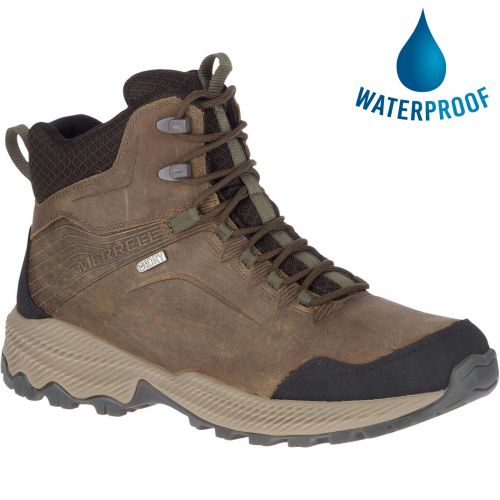 What we like:
Super tough & comfortable
Waterproof & breathable
Removable contoured insole
What could be better:
Again, metal eyelets at high level but they won't interfere with your detector.
The Forestbound hiking boots from the established manufacturer Merrell are great. These are our highest priced suggestion here yet still affordable we think considering the quality and materials.
The boot's waterproof membrane keeps out water but lets your feet breathe. The leather components are coated with a waterproof treatment and a mesh upper lining combined in the tongue keeps out debris.
The specially designed Kinetic Fit BASE removable contoured padded insole gives you flexible support in your foot arch.
A lightweight EVA foam midsole gives you extra stability and comfort while the rubber outsole affords durable traction that grips when and where you need it.
Northcape Men's Coniston Neoprene Wellington
For the times when conditions can get a bit muddy or claggy, the Neoprene wellington boots from Northscape are fantastic!
I recommend to order 1 size above your usual UK size for the most comfortable fit, especially with thick socks!
With a full Neoprene lining that keep your feet warm, these are perfect going into the winter period.
Extremely comfortable and available in either green or black.
Final thoughts
Okay, let's round up! We have covered how important it is to have a good pair of boots while out metal detecting. The reasons include that you must be comfortable for long periods.
You don't want to leave a field early just because your feet hurt! The other important factors are the need for waterproofing, breathablility, durability and ankle support due to the possibility of covering rough terrain.
As long as you do not have metal toe caps, a couple of metal eyelets high up in a boot will not effect your metal detector.
In fact, the old Timberland boots I used to wear have several metal eyelets and they didn't effect me! It really is just peace of mind and good skills to limit as far as possible the amount of metal in your boots.
I hope this has been of help to you……happy hunting and stay safe!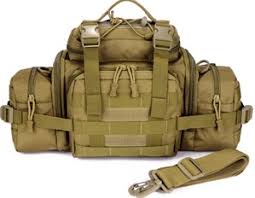 Ultimate Tactical Packs!
Carry everything you'll need for a detecting day like a First Aid kit, detector spares, finds boxes, batteries, snacks and drinks to rehydrate.
Never forget anything again with a belt pack!