Best gloves for metal detecting
Choosing the best gloves for metal detecting is vital. There are many sharp objects and bacterial nasties that can lurk unseen in the soil which needs to be prevented from entering a potential cut. These could cause some serious health issues. We talk about this further.
Having a really good pair of gloves for metal detecting cannot be stressed enough. I never leave for a day out detecting without any gloves.
There a few reasons why a good set of gloves are essential and one of them could save your life!
Finding the right balance of gloves is not easy. Firstly, it all depends on what time of year it is and how high or low the temperature is.
You don't want to wear thick gloves in the summer months and you don't want to wear thinner gloves in the winter.
For this very reason, I always have two types of gloves in my carry box at all times. I may not need them for six month at a time but at least I know where they are!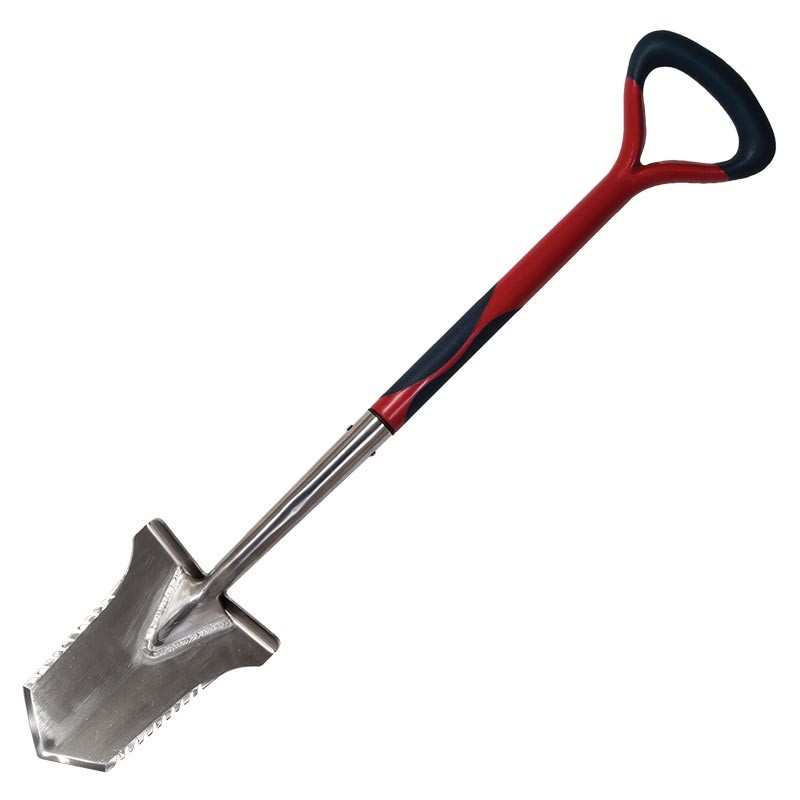 The Evolution Pro Cut
The ultimate accessary for the serious metal detectorist. Super strong, stainless steel specially designed spade.
So why use gloves for metal detecting anyway?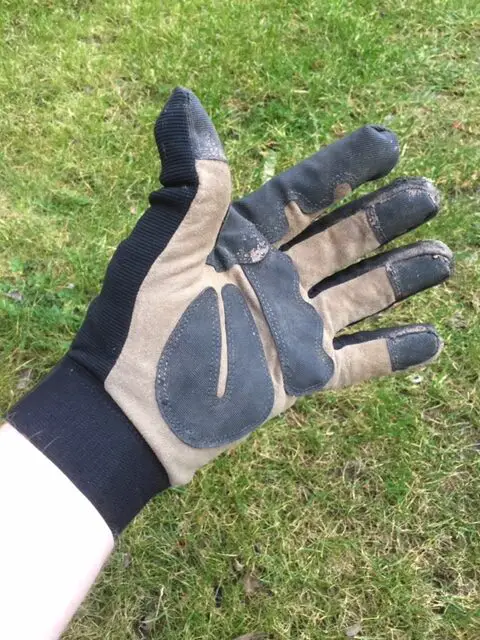 The first reason to use gloves is really just for practicality. Without gloves, you'll just get covered mud and it'll get everywhere, including under finger nails.
There are a number of soil related bacterial and fungal pathogens that can find their way into the human body and cause some serious health related issues.
They can hide under finger nails and get into your body. Some of these infections or parasites can cause such harm, you could end up in Accident and Emergency.
Many of these micro organisms like certain or particular soil types and will promote a complex setting which will encourage the life cycles of these organisms.
Another horrid thing to factor in are the waste products from animals which find their way into the soil. These could be larvae or eggs that theoretically could get under your nails…..it's not unheard of!
The second reason for wearing gloves is to prevent your hands from being cut and any bacteria getting inside the cut. Infection not only can be ingested, it can be injected to from a contaminated sharp object.
When on a farm or a beach metal detecting, there is a very good chance that you will come across some very sharp discarded rubbish.
This could be in the form of a shredded tin can by a gang mower or an aluminium bottle top that's still screwed onto the neck of a smashed glass bottle.
These kind of object lie in the ground for a long time being surrounded in bacteria. Metal object like nails can rust and stay sharp harbouring Tetanus.
As well as Tetanus, soil bacteria can include Anthrax and Botulism that can cause gastro-intestinal problems and respiratory diseases.
It's not all doom and gloom however!…..I've been metal detecting for years and have never been ill after a day. I am quite strict with protecting myself and I can only recommend that you do too.
Additional items to think about taking along
So, I think that with all of the nasties that we've discussed that are lurking the ground, it's safe to say that we need to protect ourselves to the best of our ability without getting too paranoid about things.
There are a couple of additional items that I do take however.
On my utility belt, I do have quite a good rear tactical pack that I use to carry exactly the items I need. Two of these things are small pack of anti bacterial wet wipes and a small bottle anti bacterial gel.
I always use these before I take a break and eat a snack. It just gives me peace of mind that I don't ingest any nasties!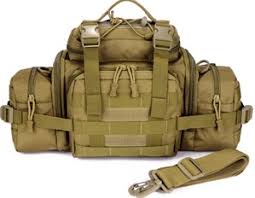 Ultimate Tactical Packs!
Carry everything you'll need for a detecting day like a First Aid kit, detector spares, finds boxes, batteries, snacks and drinks to rehydrate.
Never forget anything again with a belt pack!
What are the best metal detecting gloves to look for?
The balance depends on the time of year. In winter, you want to stay warm and also stay dry. There is a very chance that your gloves will be exposed to water, or at least a lot of dew and moisture.
This can cause your hands to become very cold so it's advisable to look for waterproof varieties that are made from Gortex or neoprene like the material wet suits are made from.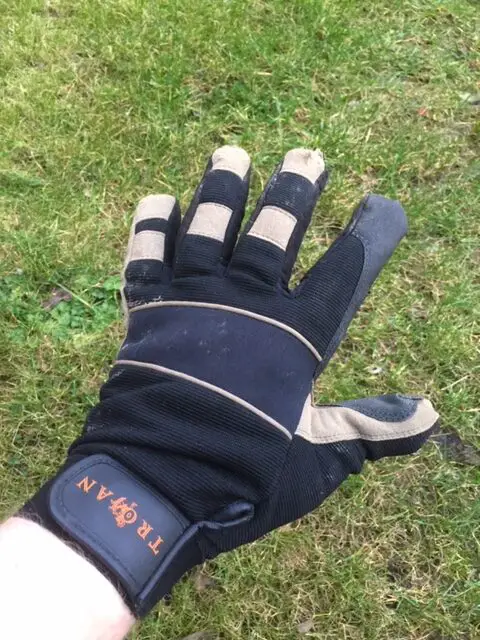 In dryer, spring or summer months, warmth is not an issue, in fact it's a hinderance with a winter glove.
That's why I choose a much thinner and "tactile" glove so I can feel and handle very small finds or targets as they come out of the ground.
Because my summer gloves are so tactile, I don't really need any instant access to the fingers. If I do, I just slip them off.
Winter gloves can give instant access to fingers by having a glove type where some finger tips can fold back and attach with a small piece of velcro.
This can be very handy after the digging has been completed and you want to handle your small find or even access your phone's finger recognition.
Recommendations
DEX FIT Level 5 Cut Resistant Gloves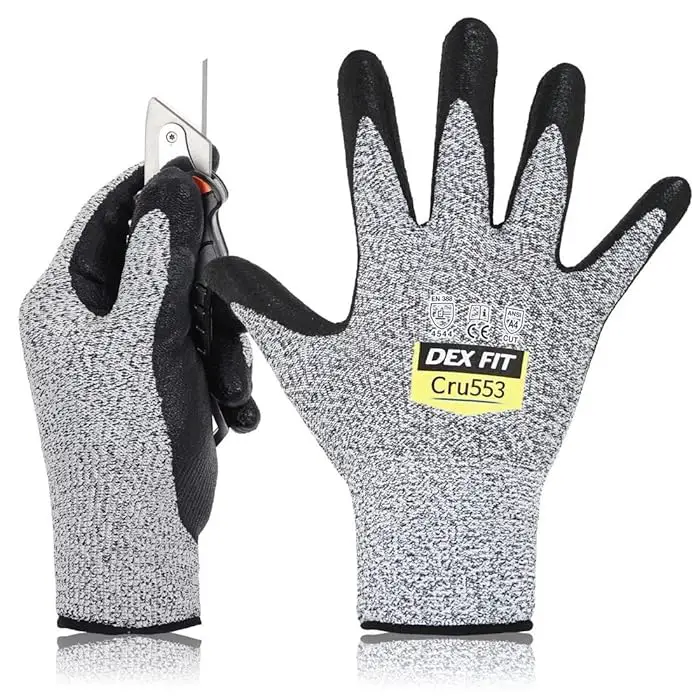 What's great:
Cut proof to CE EN 388 4544
Second skin feel & lightweight
Great for handling small finds
What could be better:
Super sharp knives may cut but okay for detecting
The Dex Fit Level 5 cut resistant gloves come in various colours that include black, grey, blue, red and green. They boast a comfort stretch fit with great grip.
They are really durable and made from foam that's Nitrile coated. They are Smart Touch compatible so you don't need to take them off to access a touch screen. They are machine washable which is a must!
Raven Metal Detecting Gloves
What's great:
Neoprene
Very comfortable
Great all weather glove
What could be better:
Package labelling says "Pack of 2" but actually means one pair!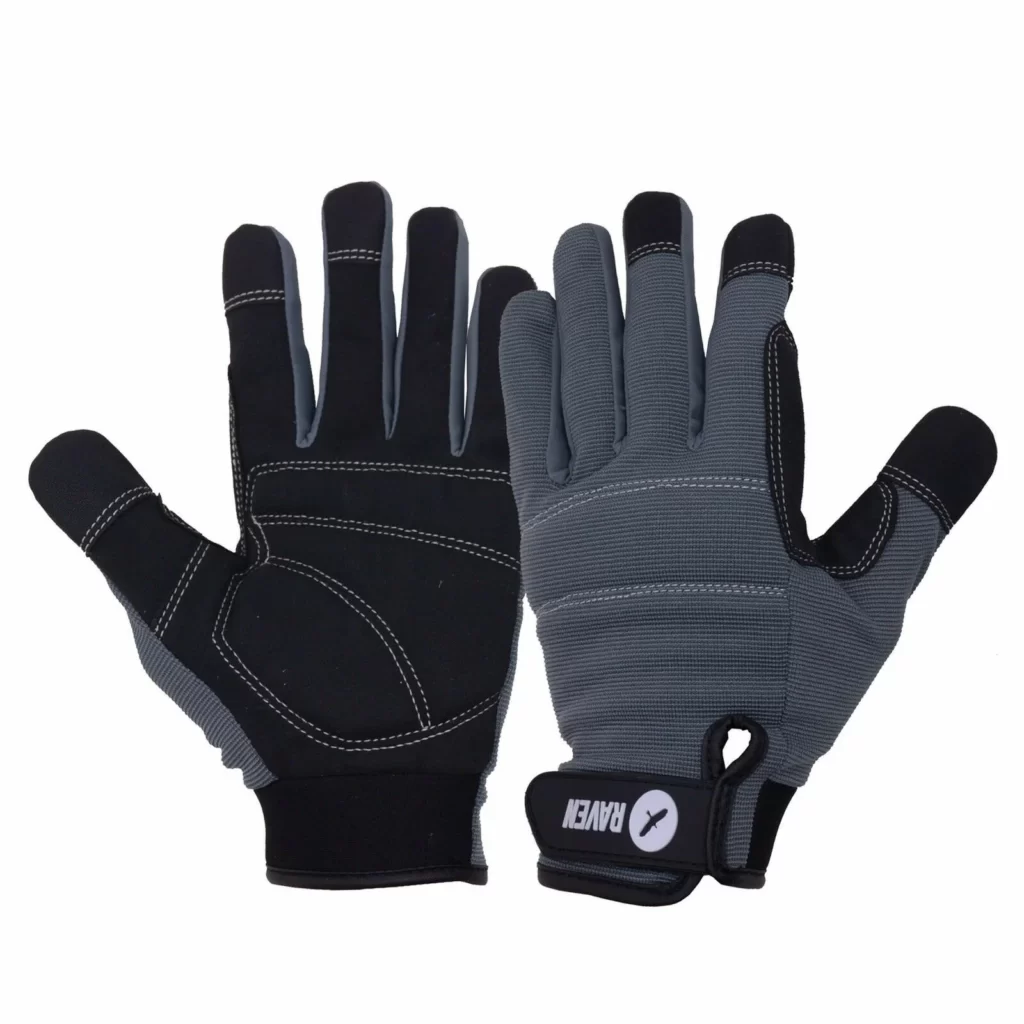 The Raven neoprene metal detecting gloves are a great all round solution. They are available in medium, large and extra large sizes.

These are perfect for detecting and are thin enough to allow sensitivity but thick enough to offer protection and comfort whilst detecting for hours at a time in all weathers.
Minelab detecting gloves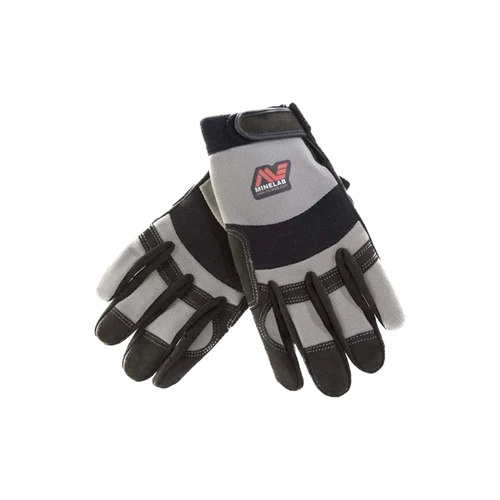 What's great:
Faux leather, Spandex and leather
Proper detecting gloves
Great pedigree
What could be better:
Could be more waterproof
Having owned a pair of these previously, you won't be disappointed. Gloves are an essential part of any metal detecting kit.
Not only to protect you from the outside but also from the dangers we've spoken about with digging into the soil.
Minelab's stylish metal detecting gloves are perfectly designed for this purpose and are made from 50% synthetic leather material, 30% Spandex.
They do only come in one size so if you have massive hands, you may need to stretch them like I did!
BB Hapeayou 3 Fingerless Gloves
What's great:
Windproof
Anti slip grip when on detector
Flexible fold back fingers and thumb
What could be better:
Not meant for heavy duty manual work environments.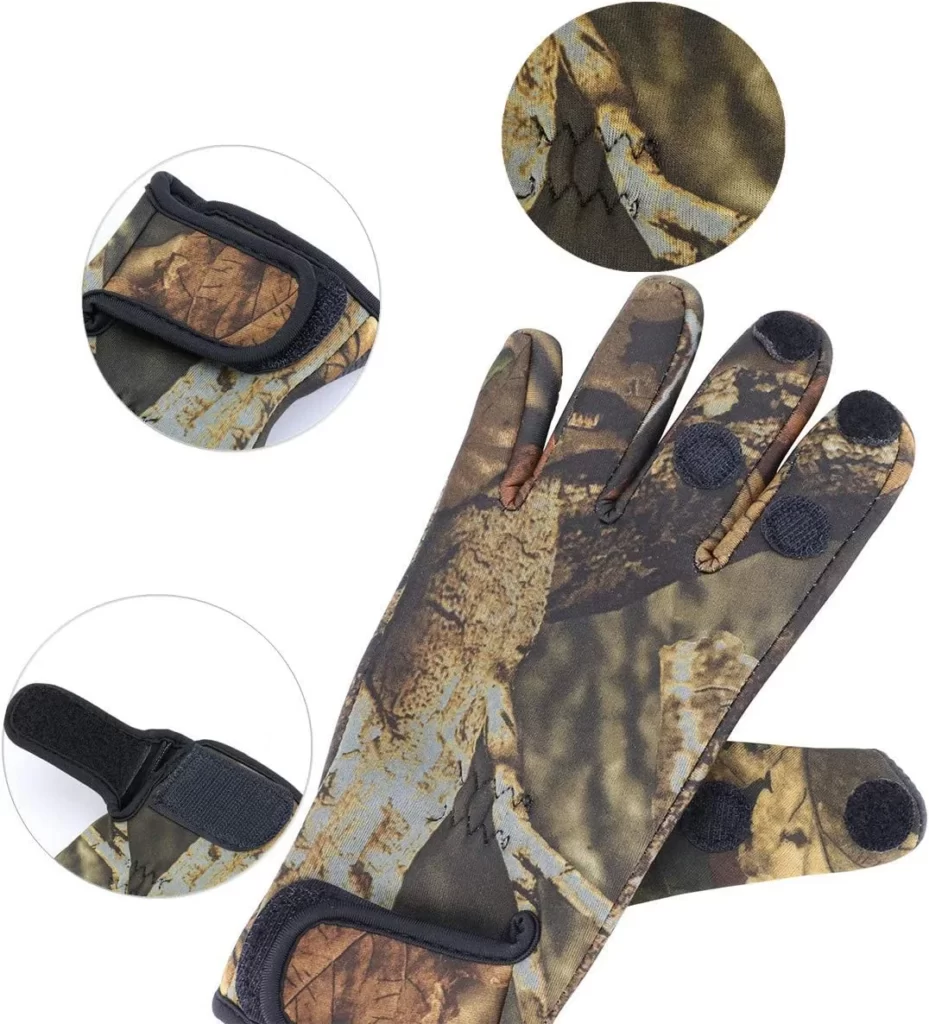 Made from composite elastic fabric, it makes these gloves breathable so prevents your hands from sweating. It has skid silica in the palm so they will be super grippy on your detector handle.
The thumb, index and middle fingers have a clever access design so that you're protected when fumbling in a hole yet can fold them back if needed.
They are good enough for mild weather but ideally not meant for freezing winter or extremely cold weather.
Final thoughts
Okay, the reasons to wear a good pair of gloves far out way the reasons not to. There are many bugs, eggs and bacterial nasties in the soil that could seriously ruin your day!
As well as gloves, remember the top tip and have some anti bacterial wipes and gel in your pouch or tactical pack.
Also, take a look at another article about choosing the ideal spade for metal detecting here. Take care and happy hunting!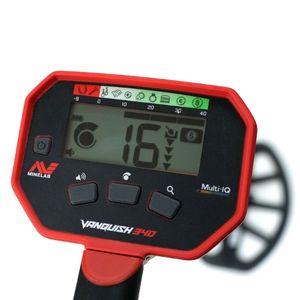 Unbeatable Multi Frequency!
You can now get the ultimate power of multi frequency technology over single frequency detectors with the Minelab Vanquish range of detectors.
The entry level Vanquish 340 now gives you ultimate depth, stability and sensitivity on all target types in every soil, including wet beach sand.