Wireless metal detecting headphones
As technology has advanced, so have metal detector headphones. Headphones for metal detectors are always built more robustly than headphones for generally relaxing and listening to music.
They always had one thing in common however. That was the fact that they both had a cord attached with a jack plug on the other end.
The advancement in technology has meant that the cord in a lot of situations, depending on the specification of your metal detector of course has disappeared.
The majority of metal detectors on the market today however will also have a provision for you to plug in wired headphones should you wish to do so. This is just in case the wireless part ever fails.
Purpose made metal detecting headphones with cords are still very much used and by all accounts, to some die hard metal detecting enthusiasts, still their preferred method of listening for target sounds.
Most, if not all older metal detectors will not have the wireless technology inside them of course. There are ways around this which we'll cover a little later.
Wireless technology can come in various guises but the most popular wireless method is called Bluetooth. It must be remembered at this point that as Bluetooth technology has advanced, so have the transfer speeds.
If you are starting out, I have article on metal detecting for beginners here.
Corded headphones vs wireless metal detector headphones
As I have just mentioned, Bluetooth speeds have increased as technology has advanced. What must be remembered and taken into consideration is the time it takes for a metal detector to trigger a sound and for that sound to be processed.
It's then sent through the air, received by the wireless headphones and processed back into sound.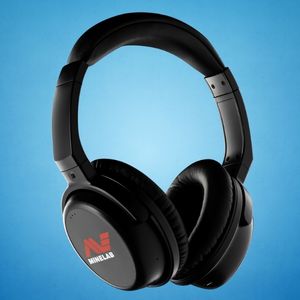 This process takes time and any lag from you sweeping your coil over a target and the sound appearing in your headphones is called "latency".
If you sweep fast over a target, the detection and sounds will be off from each other.
When a coil is being swept across the ground, any delay (latency) of a detected target sound could mean that your search coil would have travelled past the target before you hear the sound.
A lower latency will mean that the target and sound produced will be closer to being simultaneous.
Corded headphones by their nature have virtually zero latency that can be noticed. This is why many people prefer them. That being said, most Bluetooth in metal detectors today should not see any noticeable lag in detection and sound.
Bluetooth is the most popular form of transfer although their are other forms that are supplied by manufacturers. Minelab for example, typically on their top end Equinox range as well as Bluetooth have something called "aptX" and "Wi-Stream".
If a metal detector has the provision inside it to produce a Bluetooth signal, most if not all standard Bluetooth headphones will be able to receive the signal.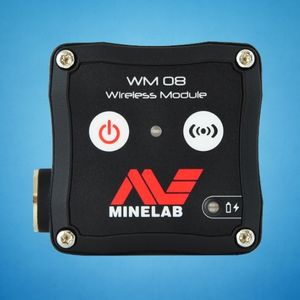 Standard headphones will display the most latency however. This would be around 100ms. (milliseconds)
Now, as I eluded to, the wireless headphones supplied by Minelab for the Equinox 800, (which is the detector I use!)….have an upgraded Bluetooth system called "aptX" which is a Low Latency Technology.
This technology is faster than Bluetooth with latency reduced to 40ms. I have an article on the Minelab Equinox 600 vs 800 here.
Finally, the Research & Development team at Minelab have also designed and supplied an additional wireless module that uses a system called "Wi-Stream".
This clever module connects wirelessly to the Equinox but allows you to plug corded headphones into it. Once this is paired, it can be placed in a top pocket out of the way.
The Wi-Stream has lowest latency of all and is close to using corded headphones directly plugged into a metal detector. The latency on this unit is only 17ms.
Units similar to this can be found from other manufacturers to convert non bluetooth machines into wireless machines which we'll cover.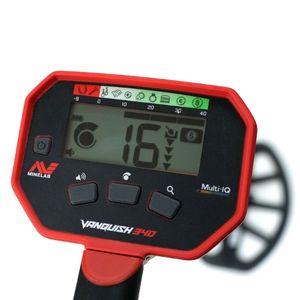 Unbeatable Multi Frequency!
You can now get the ultimate power of multi frequency technology over single frequency detectors with the Minelab Vanquish range of detectors.
The entry level Vanquish 340 now gives you ultimate depth, stability and sensitivity on all target types in every soil, including wet beach sand.
Can you use any headphones for metal detecting?
The simple answer is yes you can. There are some drawbacks to using ordinary headphones however. This, as we've discussed is the "latency" or lag in Bluetooth speeds if you're using ordinary music type headphones.
When sitting in an armchair or on a bus listening to a continuous stream of music, the latency is not really an issue because of the continuous nature.
Detecting metal targets is much different and requires a lot more processing and accuracy.
Another difference between ordinary headphones and metal detecting headphones can be the range of sounds and they way they produce the sound.
Detectorists very often need to have their headphones block out as much unwanted sound as possible in order to detect faint, deep target signals.
Corded headphones specifically designed for music listening are okay to use but the main issue is the robustness of them.
Purpose made metal detecting headphones will have a more robust cord that is reinforced and the headphones themselves will have a waterproof rating.
Being derived from construction or industrial grade ear protection, they will also be more efficient at keeping out unwanted sounds or wind noise.
The cords on metal detecting headphones will also be coiled to allow them to stretch.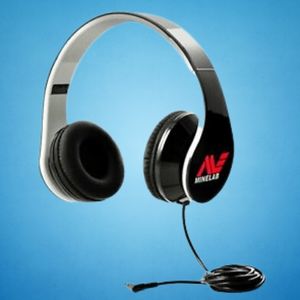 Jack plugs on the ends of headphone cords can come in two sizes. These will either be 1/4 inch diameter or the slightly smaller 1/8 inch diameter.
You just need to check the size needed for your detector as you may need a size converter adapter.
Wired headphones offer benefits of having no lag so if you aren't bothered by a cable, you can get some great head sets.
The main benefits to using wireless headphones is that it stops you from getting tangled up in a cord when you are constantly swinging all day, placing your detector down to dig a target and then picking it up again.
Metal detector headphones with volume control
The main feature you tend to find on metal detecting headphones is that you will get a volume control on one of the ear cups. This makes it much more convenient to adjust the volume throughout the day.
Most music headphones will either have very small buttons on them or will have the volume increased or decreased via the device playing the music.
Best metal detector headphones
As with most things in life and with most hobbies, in finding the best metal detecting headphones, you always get what you pay for. Just try and get the best ones you can for the budget you have.
The things to consider here are if you are bothered about having a cord attached from your headphones to your metal detector.
Many detectorists aren't bothered but some swear by not being tied. Are you worried about the latency? Inreality, you probably won't even notice any Bluetooth wireless lag but if it's a concern, corded headphones have virtually zero lag.
Check what size headphone jack you require for your machine. You can get adapters that will alter the size but these can be awkward. By that, I mean that depending on the location of your jack plug on your control box, it could easily stick out too far and get accidentally snapped off.
A good tip is to also look for an adapter that is at 90 degrees so it reduces the risk of this happening. The right angled adapters look like this.
Double check the rating on how they resist water ingress. Having a good waterproof jacket with a sizeable hood will keep them protected in the rain. I do have an article on metal detecting in the rain here.
Best headphones for metal detecting
Garrett MS-3 Headphones with Z-Lynk Wireless Kit
(Best non Bluetooth detector to Bluetooth conversion)
What's great:
Converts a corded detector to wireless
Comfortable with detecting designed audio specification
Converts any make of detector with a 1/4 inch jack plug
What could be better:
Transmitter & headphones not fully waterproof
The MS-3 metal detecting headphones with wireless Z-Lynk module is the number one choice for quality if you have a metal detector that only supports corded headphones. If you are looking to switch to a wireless system, you won't go wrong here.
Coming from the established American manufacturer Garrett, you know that will do everything you need them to brilliantly.
The great thing about these is that as long as you have a 1/4 inch female jack plug on your detector, regardless of the make, it'll convert it to wireless for you with no noticeable lag in signal.
Being specially designed for detectorists, they are comfortable, have a huge audio range and a volume dial on the earcup.
The only thing to remember is the waterproofing. If you plan to detect in the rain or indeed get caught, ensure you have a hood on your jacket and a spare plastic bag to cover the module.
They are promoted as being rainproof but not waterproof so as long as you don't plan any deep sea diving, you'll be okay!
They aren't cheap but they could be the only headphones you'll ever need if you want to convert. If you already have or plan to get a Garrett AT Max or Multi Frequency Ace Apex, all you'll need to do is connect the headphones as these detectors have the Bluetooth already built in!
(You can read my article on multi frequency technology here.)
Detectorpro Gray Ghost Ultimate Headphones
(Best quality specifically designed corded option)
What's great:
Purpose made for metal detecting
Very tough and rugged. Well known in the detecting community
"Stay put" clickable volume control dial
What could be better:
No Bluetooth version yet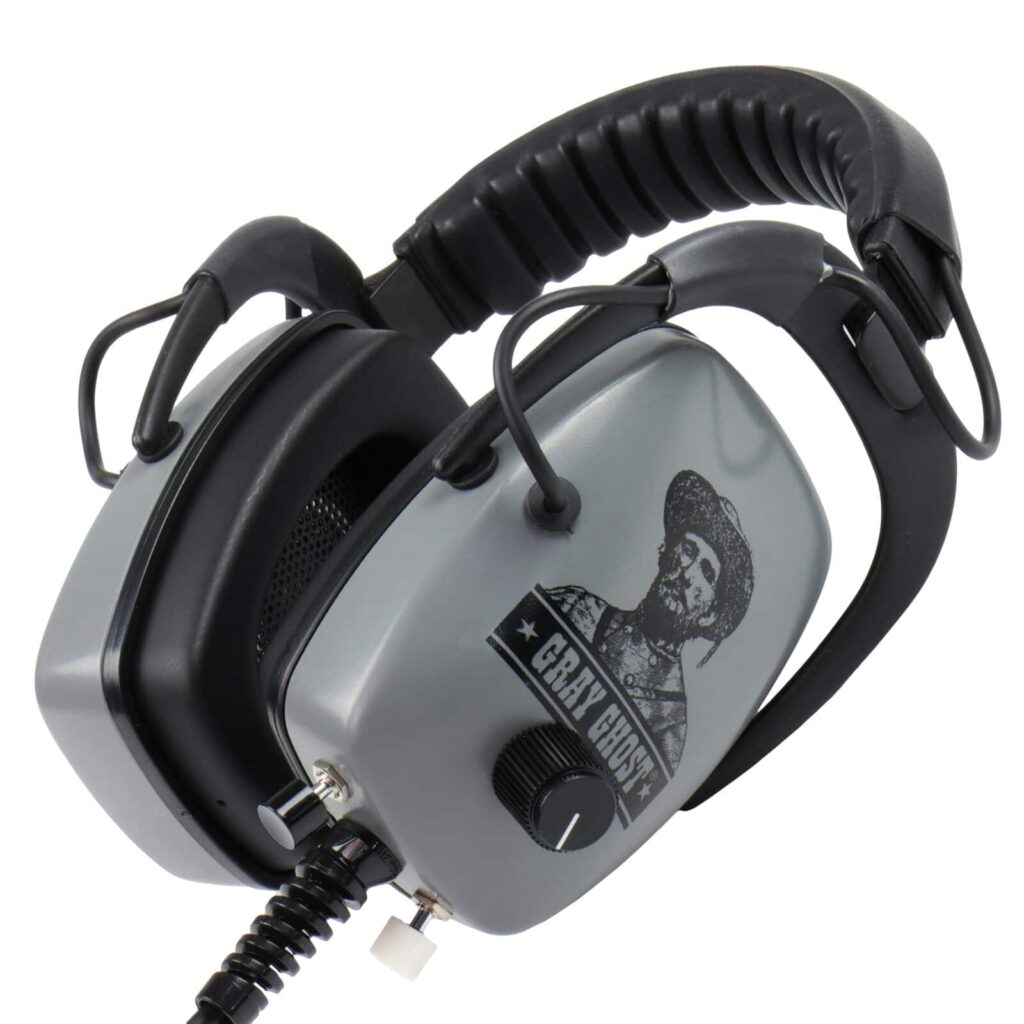 The Gray Ghost Ultimate is 2nd second version of these premium headphones. Ultimate Gray Ghost headphones have been specially designed for detectorists by detectorists.
This corded headphones are at the top of their game and have been for a long time.
It all started with the original Gray Ghost headphones but the Ultimate version contains all of the custom enhancements that detectorists wanted.
The sound quality is made possible by specially designed speaker elements in a tuned cavity. This unique design gives enhanced sensitivity to very small targets with more power at full volume.
One upgrade from the original Gray Ghosts is that the switch has been replaced by more durable push buttons placed in shielded locations.
The special limiter circuit gives a smooth reduction at excess volume levels reducing a clipping effect. It can also be disabled at the touch of a button.
New features include an industrial grade nylon 6/6 strain relief at a new neck-hugging angle. This helps reduces stress on the cable and helps to keep it close to your body for fewer snags in the most rugged terrain.
These again are not super cheap but could be the only corded metal detecting headphones you'll ever need!
Garrett MS-2 Headphones
(Best quality detecting designed corded budget option)
What's great:
Detecting designed big ear shell
2 year warranty
Volume control on ear cup & angled jack plug
What could be better:
You may need a 1/4 inch to 1/8 inch adapter
The Garrett MS2 corded stereo headphones are my second suggestion from Garrett and have been designed for use with all makes of metal detectors. They are extremely durable and have been field tested by detectorists.
They fold down compact carry and storage easily. High fidelity speakers make for maximum sensitivity and signal quality over a large range.
A volume control for adjusting signal levels to suit individual hearing requirements sits on the ear cup which also enhances weak signals.
A padded comfortable headband and ear cushions means that they're comfortable all day.
The heavy duty padded ear muffs are specifically designed to reduce ambient noise and a reinforced 10 foot coiled cord with right angle, 1/4-inch connector makes these the most robust, specifically designed budget choice.
Final thoughts
Headphones are an integral element to any metal detecting kit. Without good quality, specifically designed headphones for metal detecting, you will most definitely miss targets.
This is especially true if you are relying only on the detectors internal speaker.
Protecting your ears from unwanted external sounds will help massively. We've covered the question if you're bothered about having corded headphones and that that you may have a detector that doesn't have Bluetooth functionality.
I've also proposed some suggestions that won't let you down in the field. I hope this article has been of help…..stay safe and happy hunting!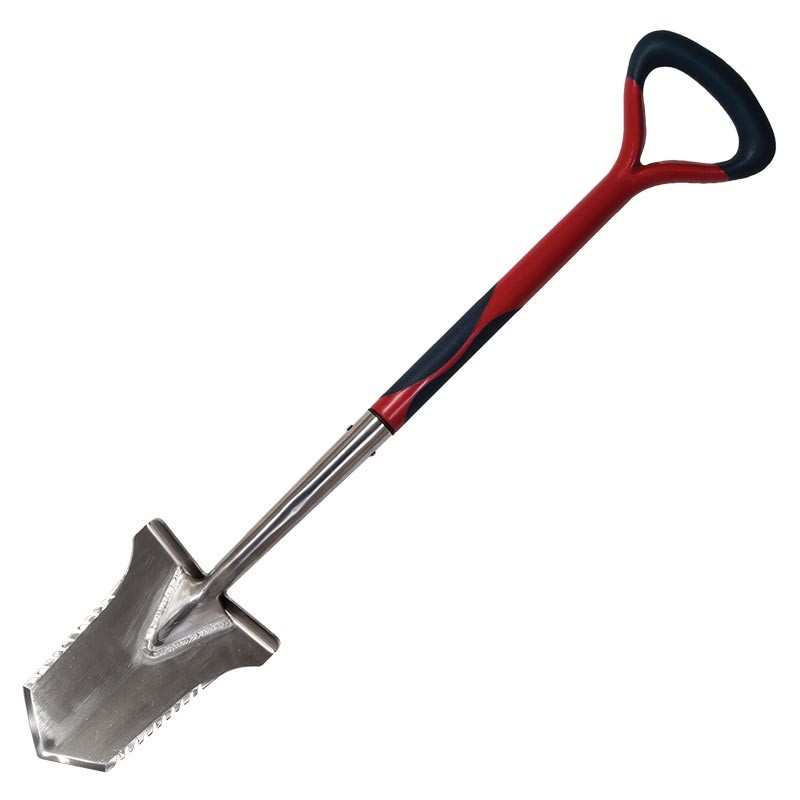 The Evolution Pro Cut
The ultimate accessary for the serious metal detectorist. Super strong, stainless steel specially designed spade.