Metal detector harnesses
A metal detector harness is a purpose made support that will spread the weight of a metal detector onto your body and away from your arm and shoulder.
Metal detectors, depending on their search purpose and choice of manufacturer will differ in weights quite considerably. Coil sizes also contribute to the overall weight and balance of a detector.
A metal detector can be of a lighter type but if it's badly balanced, it can make it feel heavier than it is and cause fatigue on your swing arm. Carrying additional equipment also contributes to this.
Metal detector types can differ greatly. From one extreme, you can get the extremely lightweight XP Deus or the new multi frequency XP Deus 2 that both weigh under 1000 grammes.
At the other end of the scale, Minelab manufacture a range of purpose made gold nugget detectors for use in the Australian outback called the GPX and GPZ range which weigh nearly 3.5 Kg.
These types of detectors are also commonly upgraded with huge search coils in order to find the smallest of gold nuggets at extreme depths. These rarely get used without a harness.
Most general purpose metal detectors used by hobbyist detectorists lie within this weight range like Minelab Equinox or the Minelab Vanquish multi frequency detectors.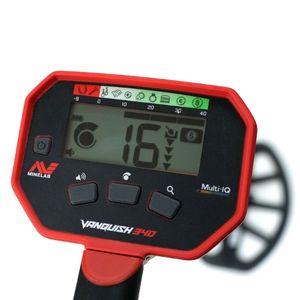 Unbeatable Multi Frequency!
You can now get the ultimate power of multi frequency technology over single frequency detectors with the Minelab Vanquish range of detectors.
The entry level Vanquish 340 now gives you ultimate depth, stability and sensitivity on all target types in every soil, including wet beach sand.
Harness for metal detector
So why would you need to invest in a metal detecting harness? The reasons are that a metal detecting harness fitted to your detector can save your arms, shoulders and back from massive fatique.
This means that you can metal detect for much longer periods throughout the day. If you were having a very productive day, the last thing you'd want is to leave early because your arm is hanging off!
Metal detecting harnesses can come in basically two varieties. One will be a full on body harness that will massively spread the load of your detector onto your body making it feel weightless.
The second will be a much simpler setup where you'll have a padded strap that will go over your head and across your body. This will then have a bungee cord and clip arrangement to hang your detector.
Both types should not interfere with your swing and in fact help you swing or sweep wider and for longer periods.
There is also the added advantage that if your detector is harnessed, when you crouch down to dig a find, you don't have to place your expensive detector on the ground.
This is especially useful when detecting in wetter conditions or throughout the winter. Continuous sweeping all day can definately take it's toll on your arms and back muscles.
Harnesses can be a saviour to those who are mad about metal detecting but without some help, cannot manage to swing a detector for long. A harness will be the difference to making detecting possible.
Metal detecting harness – 5 Advantages of using one
Redistributes and spreads the weight of your detector to your whole upper body.
Allows you to detect for longer periods which increases your finds rate.
Prevents your detector from damage from not having to place it on the floor.
Allows you to use both hands when digging targets because your detector is supported.
Allows those who struggle to actually get out and metal detect!
Best metal detector harness choices
Minelab Pro-Swing 45 Harness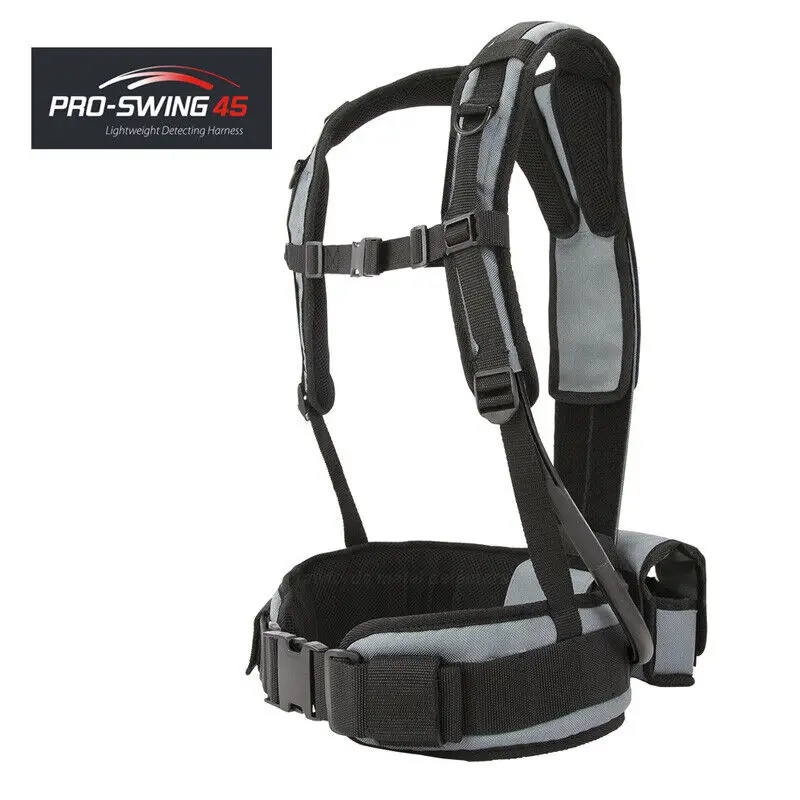 The Minelab Pro Swing 45 is the ultimate metal detecting harness and consequently is the most expensive at the sub £130 mark.
Its ergonomic design evenly distributes detector weight from your shoulder via a "J strut" making your sweep much lighter.
Minelab have introduced eight adjustment points and eight attachment points to carry all of your detecting accessories.
These adjustment points allow for a perfect fit everytime and the click in J strut adjusts for left or right handed detectorists.
The bungy ensures an optimum sweep and correct posture. The quick release "R clip" allows you to detach your detector.
Its versatility to attach the harness to any detector using the universal S-cuff is a great touch.
You can find a Minelab Pro Swing 45 over on Amazon here.
SHRXY Detecting Harness Sling for All Metal Detectors
This recommendation is for the lightweight and simple metal detector harness from SHRXY in the sub £20 category.
It can be worn on the right or left shoulder and the length can be adjusted to the individual. Placement is easy.
Just slip your arm through the padded loop, run the strap along the top of your back and then over your swinging shoulder.
Then, slip the bungee section around your detector shaft or handle and start sweeping effortlessly.
The Shrxy metal detecting harness has been designed for use with all metal detectors and is highly adjustable.
You can find a SHRXY shoulder harness on Amazon here.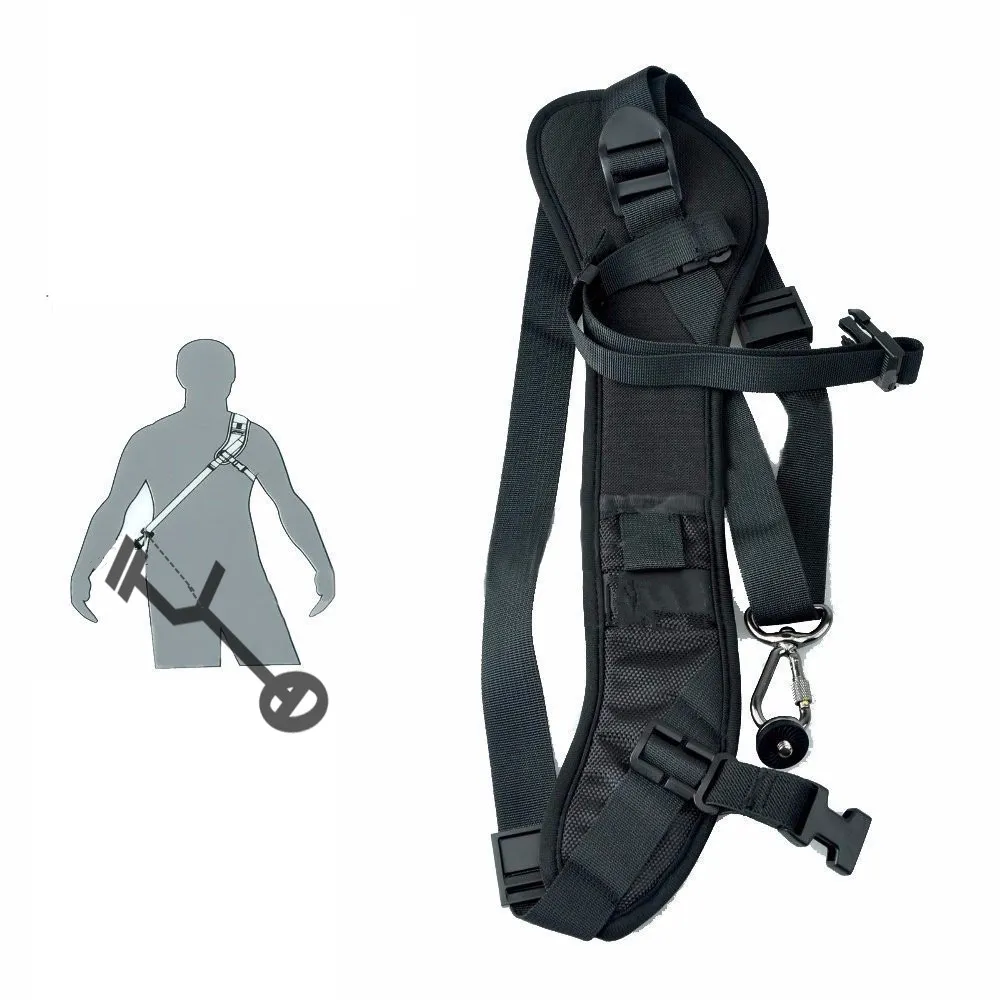 ZHENA Trimmer Adjustable Shoulder Strap Harness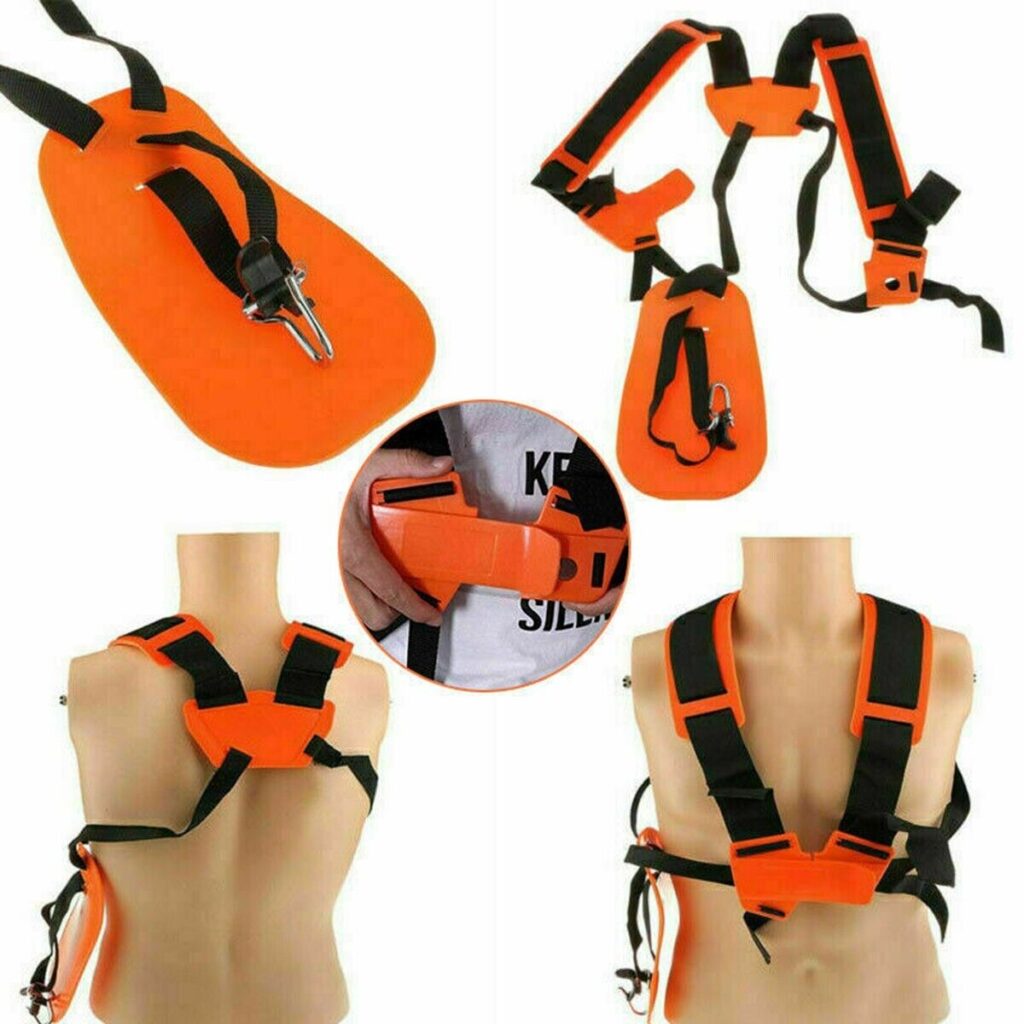 If you don't mind a little fettling and adjusting, I've thrown in the Zhena shoulder harness strap as a bit of a wild card for you.
This adjustable shoulder strap come lightweight harness was designed initially for a petrol trimmer but looks perfect.
I've thrown it in as a hybrid version of the previous two harness strap types. It's still lightweight yet has a full harness.
You may just have to fettle a little more maybe with a bungee cord, some small cable ties and a clip or carabiner!
Not bad at all for the sub £20 mark!
You can find a Zhena shoulder harness on Amazon here.
Final thoughts
In this short article, we've covered off some of the basics of why some detectorists use a metal detector harness. This is mostly to reduce fatigue from the repetitive nature of swinging a detector.
Most fatigue from sweeping a metal detector for extended periods occurs in the arms, back and shoulders. This can be made worse from having a larger search coil fitted causing imbalance.
For dedicated detectorists that may have old injuries, a harness is the only way they can carry on with their hobby. A harness will distribute evenly the dead weight of a detector throughout the upper body.
The other great advantage for detectorists that don't need a harness for those reasons is that it keeps your detector by your side when you let go of it.
This prevents it from having to be constantly placed on the ground causing wear and tear and potential damage. It also allows you to use both hands when extracting finds from holes or examining them.
I have another article here for some more metal detecting tips and tricks. Stay safe and happy hunting!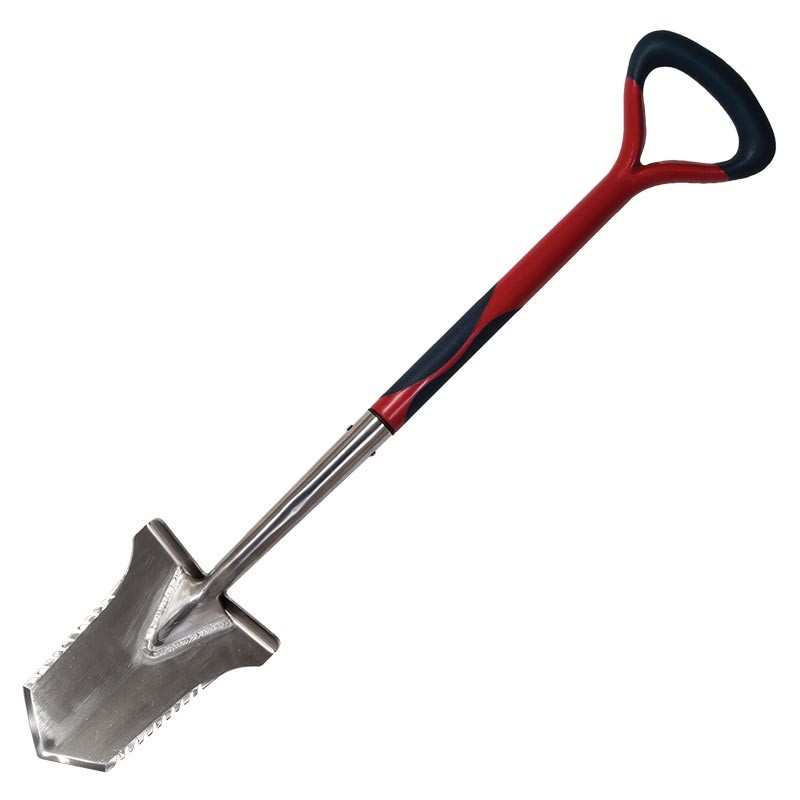 The Evolution Pro Cut
The ultimate accessary for the serious metal detectorist. Super strong, stainless steel specially designed spade.