Metal detecting news is a really great way of promoting the hobby of responsible metal detecting. By the nature of a life changing find being in the news, it means that the correct procedure has been followed and the historical context of the find and its location has been logged and preserved.
Metal detecting news
My intention for this article is for it to remain live so that great metal detecting news stories can be added for your interest.
One great way to stay current in the world of metal detecting is by subscribing to a magazine. I have an article on metal detecting magazines here.
It's always the dream for a detectorist to have a life changing event and find something special. These news stories prove that this is one of the only hobbies that really can change your life with one find!
I have some great supplemental articles on the website so if you've arrived here out of an interest in possibly starting a new hobby, they would be a great place to start.
The first article I can recommend is if metal detecting is worth it? The next good read would be if metal detecting is legal. This covers the dos and don'ts of detecting.
If this really does wet your appetite for starting the hobby of metal detecting, I have specifically written a beginners article from my 20 years of experience here….Metal detecting for beginners UK.
A further article to that guides you through the best detector for a beginner here.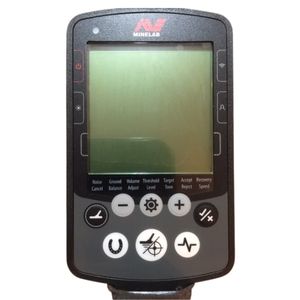 The Minelab Equinox 800
The ultimate and original multi frequency machine that has opened up a whole new world in detecting technology.
Deep detection and constant stable target identification.
An Edward III gold coin is found by a detectorist based in Norfolk and it sells for just under £175,000!!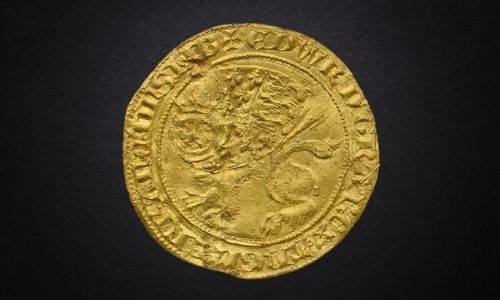 The Edward 3rd Leopard gold coin is known as a Florin and dates from 1344. It was found by a hobby metal detectorist called Andy Carter in 2019.
The extremely rare coin was originally estimated to fetch approximately £140,000 but then rapidly escalated to £174,600.
The Edward 3rd coin is made from 23 carat gold and depicts a leopard sitting upright sporting a banner. The coin originally had a value in its day of 3 shillings or 36 silver pennies.
This would of been a very sad loss by the owner all those years ago!
Its rare because it was only in circulation for seven months before it was withdrawn which obviously makes it a very rare and historically significant find so if you ever find one….you should get excited!
It was later purchased by a private collector from the UK.
The metal detectorist who found it was described as saying that…. "This is a life changing amount of money and I will share it with the landowner, but my partner would like a new kitchen and I have always dreamt of getting a Land Rover Defender, not sure where I will park it though!"
So….these things can happen!
Anglo Saxon gold coin sells for £18,600!!
At the same auction, an Anglo-Saxon gold coin that was found in a field in Cambridgeshire managed to fetch £18,600. It was only estimated to fetch around £10,000 but climbed to more than £8,000 over its expected auction price.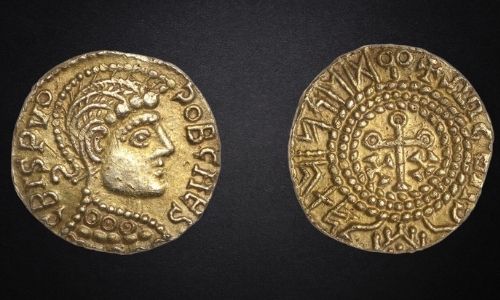 The Anglo Saxon gold shilling dates approximately from AD650-670. Only eight coins of this 'Crispus' type have ever been recorded so obviously another very rare coin!
The metal detectorist, Mark Pallett discovered it in a field in Haslingfield, South Cambridgeshire. He was quoted in saying….
"I am truly overwhelmed by the price that the coin achieved and am pleased for myself and the farmer who will get half of the proceeds," he said.
"I did think about buying a new detector with the money but I don't think that there's anything wrong with my current one as it helped me find this wonderful coin!"
Medieval gold pendant expected to fetch £8,000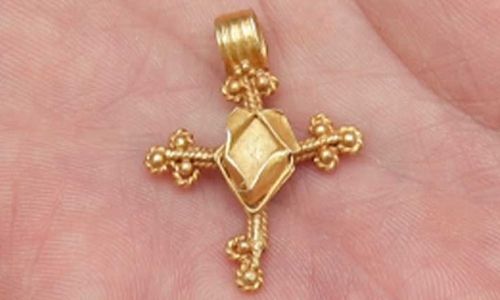 The medieval pendant was discovered by a metal detectorist called Jason Willis and could fetch up to £8,000 at auction.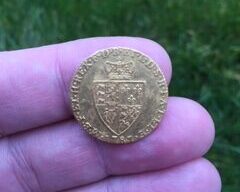 Jason, 38, from Norwich found the 11th or 12th Century gold cross while detecting with friends at Sutton St Edmund, Lincolnshire He said…."I knew it was something special by the shining yellow colour."
I can agree with that after I found my first gold coin which was a 1787 George III full spade guinnea.
Nothing else other than gold comes out of the ground that colour!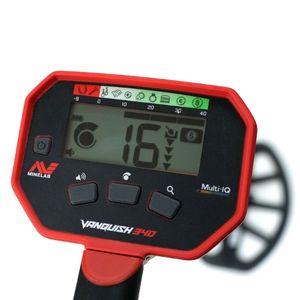 Unbeatable Multi Frequency!
You can now get the ultimate power of multi frequency technology over single frequency detectors with the Minelab Vanquish range of detectors.
The entry level Vanquish 340 now gives you ultimate depth, stability and sensitivity on all target types in every soil, including wet beach sand.