Metal detecting magazines
Within the UK, there are two main choices of metal detecting magazines for the hobby of metal detecting. These are namely The Searcher magazine and Treasure Hunting magazine.
There are metal detecting magazines which are free, (to an extent). One is issued by the NCMD (National Council for Metal Detecting) included in your annual metal detecting insurance premium.
The last one is totally free and a fantastic resource. It's called The Archaeology & Metal Detecting Magazine. You just need to subscribe for free!
Having a magazine that is dedicated to your hobby of metal detecting every month is a great way to stay current with the hobby. This can include new metal detectors, technology, the latest finds and more.
Metal detecting rallies are very often advertised and are a great way to meet new people and gather more experience. It's also an easy way in if you don't have any permissions early on.
The will often offer a readers letters opportunity for you to write in or email with any questions or even to publish a story of yours if you've found something of interest or value!
Every month, there will be several regular special features where experts will help with research, find identification or history. Detector reviews will also feature as new models are launched.
Finally, you'll also find towards the end a "Club Roundup". This is where UK based metal detecting clubs will log and photograph their club finds for the month.
It's also a great way to find out if there is a metal detecting club in your area that you could join. When starting out, this is a great place to start and the community is very supportive.
If you are new to detecting or are wanting to gain more knowledge before taking the plunge, I have a great article on metal detecting for beginners here.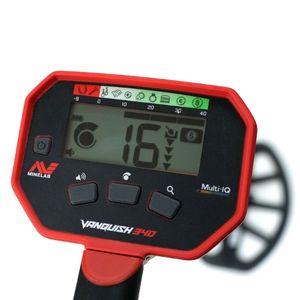 Unbeatable Multi Frequency!
You can now get the ultimate power of multi frequency technology over single frequency detectors with the Minelab Vanquish range of detectors.
The entry level Vanquish 340 now gives you ultimate depth, stability and sensitivity on all target types in every soil, including wet beach sand.
Treasure Hunting magazine
Treasure Hunting magazine, often known as Treasure Magazine has been one of the main sources for the hobby of metal detecting since the 1970's. The original magazine was printed in black and white!
It claims to be "Britain's Best Selling Metal Detecting Magazine" which I can't argue with! Every month is packed with the latest information and news about the hobby.
Usual contents include initially an up to date summary on the news and views from the world of metal detecting. This can include big finds and current legislation that could effect the hobby.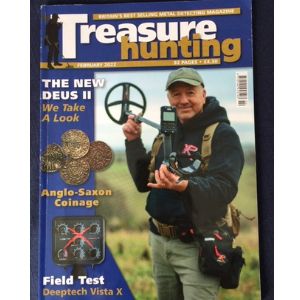 A large section that covers readers finds is very interesting.
Fellow detectorists show their finds and explain how they discovered them, very often with the machine they were using.
Every month they will have really full articles about UK coinage or artefacts and their history.
This helps widen your skills and knowledge base to help you recognise finds when you discover them.
As new metal detectors or accessories are released, there will very often be an expert on hand to review them in the field.
Another section includes an auction roundup that shows what typical finds have fetched in the private auction houses after being returned to the owner. This really spurs you to keep going!
Finally a club round up of UK metal detecting clubs display their finds for the month. There very often is a competition also to enter and win some detecting related prizes.
Treasure Hunting magazine subscription
There is a Treasure Hunting magazine subscription service which does reduce the cost of a single monthly magazine. You can find the latest subscription cost to Treasure Hunting magazine here.
The Searcher magazine
The Searcher magazine is another long standing contender in the world of metal detecting publications. Designed, edited and published the fantastic lady Harry Bain, it really fits well with the community.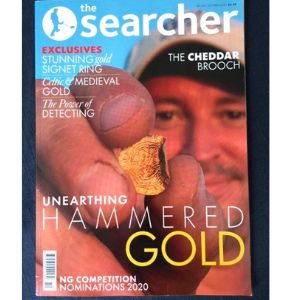 Much like Treasure Hunting magazine, The Searcher covers the areas previously described.
It just adds their touch to it which is great. It's always good to have another point of view.
Typical content includes recent treasure news, articles from well known detectorists on how to improve your finds rate and recognising any finds.
There are plenty of great finds stories that have changed peoples lives and lots of product tests.
Local auction news and club activities contribute also.
The Searcher magazine subscription
Similarly and as you would expect, there is a Searcher magazine subscription service that can also reduce the cost of a single monthly magazine.
You can find the latest subscription cost of The Searcher magazine here.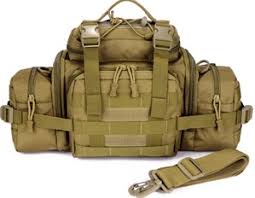 Ultimate Tactical Packs!
Carry everything you'll need for a detecting day like a First Aid kit, detector spares, finds boxes, batteries, snacks and drinks to rehydrate.
Never forget anything again with a belt pack!
Free metal detecting magazines
There two main free metal detecting magazines that I know of. One is "kind of" free and is posted to you free of charge if you have taken out metal detecting insurance with the NCMD.
The second metal detecting magazine is totally free! Incidentally, I do have an article on metal detecting insurance here which could be useful.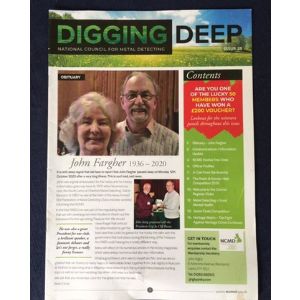 The NCMD is the National Council for Metal Detecting). The free metal detecting magazine they supply is called "Digging Deep".
This magazine is a really good source of current information in the world of metal detecting.
It primarily focuses on the legal side and monitors current legislation on behalf of the everyday detectorist.
The NCMD are the metal detectorists champion in this field.
Because of this, a small subscription to them for insurance, the magazine and looking out for us legally is a small price to pay.
The have good, solid articles on history, finds, clubs, the law and have many competitions. You can find out more about the National Council for Metal Detecting here.
The Archaeology & Metal Detecting Magazine
This free metal detecting magazine is fantastic and yes, totally free. All you need to do is sign up. It really is the best free resource for archaeological, historical and metal detecting news and views.
Make no mistake, this magazine is not like a free newspaper left on a bus. This is a very well crafted and knowledgeable magazine that has the look and feel as if you'd paid for it.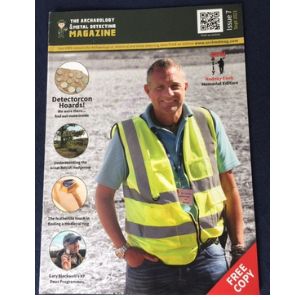 It has article contributions from very well known detectorists in the community that are respected for their knowledge and skill.
It contains in depth content like round ups from recent metal detecting rallies and single useful contributions.
These can be about how to improve your detecting along with stories of amazing finds.
It also includes guides like how to clean finds and improve metal detector settings on machines.
They are also up to date with current news that might effect our hobby.
It's well worth signing up! You can find out more about the Archaeology & Metal Detecting Magazine here.
Final thoughts
Subscribing to a magazine related to your hobby can really keep you in touch with what's going on. It can also reduce how isolated single detectorists can sometimes feel.
Magazines can keep you totally up to date with any law changes or legislation that could adversely effect our hobby. They very often help lobby politicians in some cases along with the NCMD.
Magazines can also keep you up to date on the latest technology, broaden your knowledge of history and also types of finds. You can also stay in touch and submit your stories for others.
Try to look for the subscriptions as these can reduce the costs of the magazines. Stay safe and happy hunting!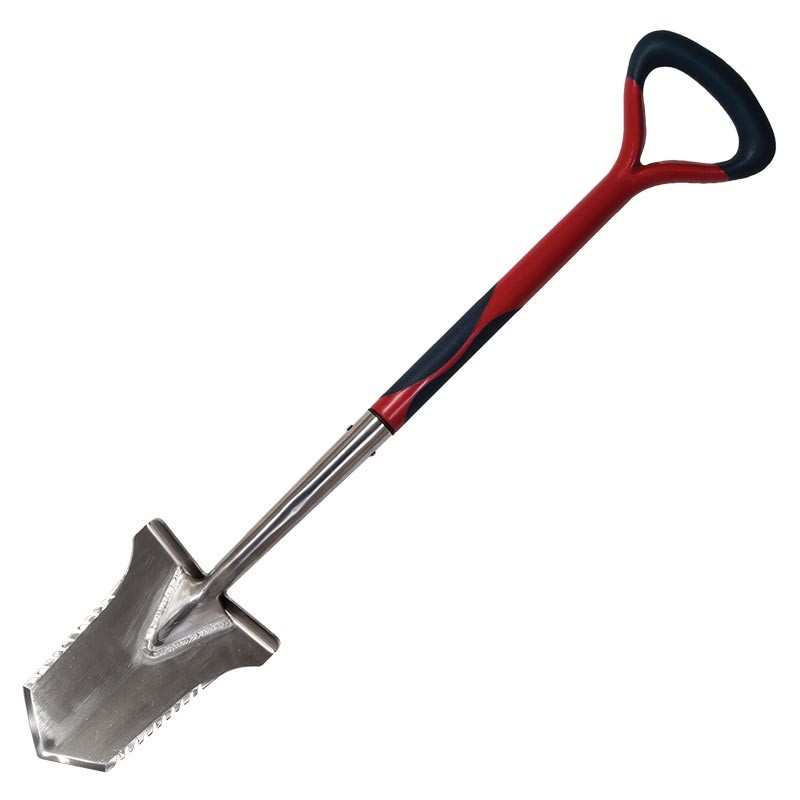 The Evolution Pro Cut
The ultimate accessary for the serious metal detectorist. Super strong, stainless steel specially designed spade.