Minelab CTX 3030 UK
Minelab have been at the forefront of metal detector design for over 25 years. Their chief designer and scientist, Bruce Candy was responsible for some amazing breakthroughs in technology.
In fact, it was down to Bruce Candy that Minelab logged more technology patents than any of its competitors and still has over 30 scientists in its research and development arm.
The Minelab CTX 3030 metal detector was launched in 2012 to an eagerly awaiting metal detecting community. Minelab hailed it as their ultimate, top of the line hobby treasure machine.
Packed with the latest technology such as "FBS2", "Smartfind2", "GPSi" and "Wi-Stream", the Minelab CTX 3030 is still available today and still takes some beating!
The CTX 3030 boasts some respectable credentials. It's fully submersible up to 3m (10 feet) deep, has low latency wireless head phones via Wi-Stream, GPS location via GPSi and a colour screen.
For a deeper dive, read my article about wireless headphones technology. The fact that the CTX 3030 is fully waterproof up to 3m is perfect for shallow water diving treasure hunters also.
I have another useful article here all about underwater metal detecting. The CTX 3030 was the first detector to incorporate a colour screen coupled with the Smartfind2 display characteristics.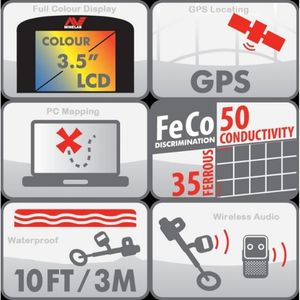 Smartfind2 works by displaying target information on the colour screen that has been determined from the FBS2 technology.
The Full Band Spectrum technology determines a targets iron content (Fe) and its conductivity (Co).
Only multiple frequency technology can truely grab this information from a target as different frequencies have different effects on different metals.
The subject of metal conductivity and metal detector frequencies is quite deep, however very interesting….to many I hope!
I have two other articles that delve a bit deeper into these subjects. You can read more about metal detector discrimination and metal conductivity here.
You can also read more about multi frequency technology here.
I will mention at this point that I wrote the article on multi frequency technology based on VLF technology. This is what Minelab call their "Multi-IQ" system and is the latest incarnation.
FBS (Full Band Spectrum) technology is slightly different in that it pulses a kind of digital rectangular wave form into the ground ranging from 1.5KHz to 100KHz.
The FBS technology was developed to cope with extremely difficult mineralised ground conditions and also provide super accurate target identification from information gathered by a wide spectrum of frequencies.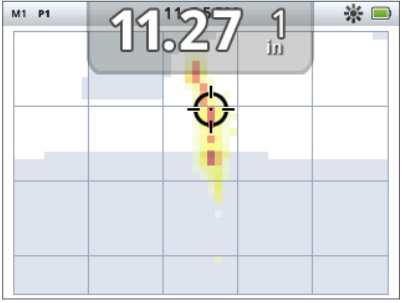 The CTX 3030 also had the fastest processors available at the time making it excellent at determining multiple targets in close proximity.
The Smartfind system then plotted them on a coloured target trace.
The target trace would display good and bad targets simultaneously and also give you a targets iron content (Fe) and conductivity (Co) value, all on a coloured display!
The CTX 3030 with FBS technology, multiple colour screen tracing, super fast wireless headphones and full GPS tracking still makes this machine the one to beat in the field.
Minelab CTX 3030 review
There is no getting away with it. The Minelab CTX 3030 is a complicated piece of kit but you really would expect that due to it being a top of the line machine. Don't however let that put you off.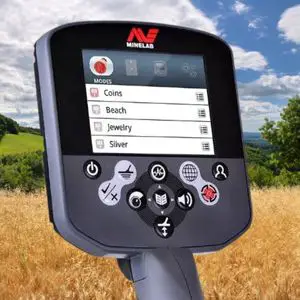 As your experience and knowledge grows, the CTX will be able to adapt and grow with you due to every setting having the ability to be adjusted.
The menu system has been designed to allow quick access to the most important and most used settings.
You can easily adjust settings like volume, sensitivity etc on the fly. The best place to start are the pre programmed search modes.
These include Coin, Relic, Jewellery and Beach modes which are all endlessly adjustable. Minelab's R&D boffins have set these up after much field testing so they are good.
A USB port on the CTX allows you to connect it to a PC via the "XChange2" software. This allows you to alter programmes on the computer and then upload them to the CTX.
A thriving community exists with many expertly programmed patterns being available for download and then subsequent upload to your CTX.
All tone settings are fully adjustable and a fully automatic ground balancing system adjusts without you knowing. Minelabs noise cancelling system also ensures minimal external interference.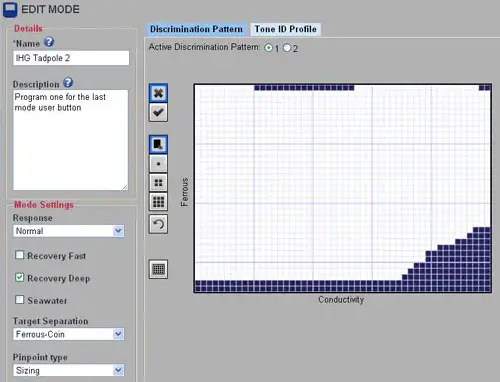 The CTX 3030 is powered by a rechargable Lithium Ion battery pack to supply enough power for all of that technology.
At 2.36 Kg, the CTX 3030 isn't the lightest detector on the market but again, you wouldn't expect it to be with the amount of technology inside it.
It has been expertly balanced however so it does carry well.
An eleven inch DD coil gives the CTX a real edge. It's sensitive to small targets yet very deep seeking when working with the FBS lower frequencies. It also copes with difficult mineralisation easily.
Minelab CTX 3030 price
A brand new Minelab CTX 3030 with all of this technology can now be had for under £1,800. Take a look on Amazon for the lowest priced Minelab CTX 3030 here.
Minelab CTX 3030 Metal Detector
Minelab CTX 3030 accessories
Many accessories are available for the CTX 3030. The CTX ships with the excellent 11 inch DD coil however a much larger 17 inch by 13 inch coil and a much smaller 6 inch coil are available.
The larger coil is used for additional ground coverage and depth, typically on open pasture. The smaller is perfect for getting inbetween maize stubble for those difficult to get targets.
I have a further article on metal detector coil types and how they work here.
Fully waterproof headphones are available for those who wish to venture out into deeper water. Most spare parts are also available including batteries and chargers etc.
Minelab CTX 3030 instruction manual
The Minelab CTX 3030 instruction is a great place to start to familiarise yourself on how to change and adjust settings. You can view and download the CTX 3030 manual and the XChange software here.
Additional technical specifications on the CTX's FBS2, Smartfind2, GPSi and Wi-Stream can be found here.
Final thoughts
Apart from Minelab's very specialised top of the line gold detectors, the CTX 3030 is still viewed as a top dog in the hobby, treasure seeking sector. It's technology however is now aging.
Minelab's latest release, the Manticore has now toppled it for top spot. Let's also be frank, the CTX 3030 isn't cheap. Metal detectors packed with this level of technology usually aren't.
The CTX 3030 was and is fast, deep seeking, very accurate, waterproof and built to last however like an aging boxer, younger contenders are now on the scene. This stems from the years of dedicated research and development of the best technology.
The CTX's Full Band Spectrum technology bombards the ground with multiple frequencies ranging from deep seeking low frequencies from 1.5 KHz to the hyper sensitive higher frequencies for minute targets.
The target information gathered and processed from all of these frequencies gives the CTX a real edge to determining a targets identity making it super accurate.
The CTX also processes quickly. This means that it has the ability to pick up and target trace multiple targets being detected within a single sweep.
The CTX is heavier than other detectors but has been designed for perfect balance. This machine is still the grand daddy of all machines but technology has moved on and multi frequency VLF is the talk of the town, not FBS and frequency harmonics.
Find the lowest priced Minelab CTX 3030 over on Amazon here.
You can even break into the world of multi frequency technology on a much reduced budget now. Check out my article on the Minelab Vanquish series.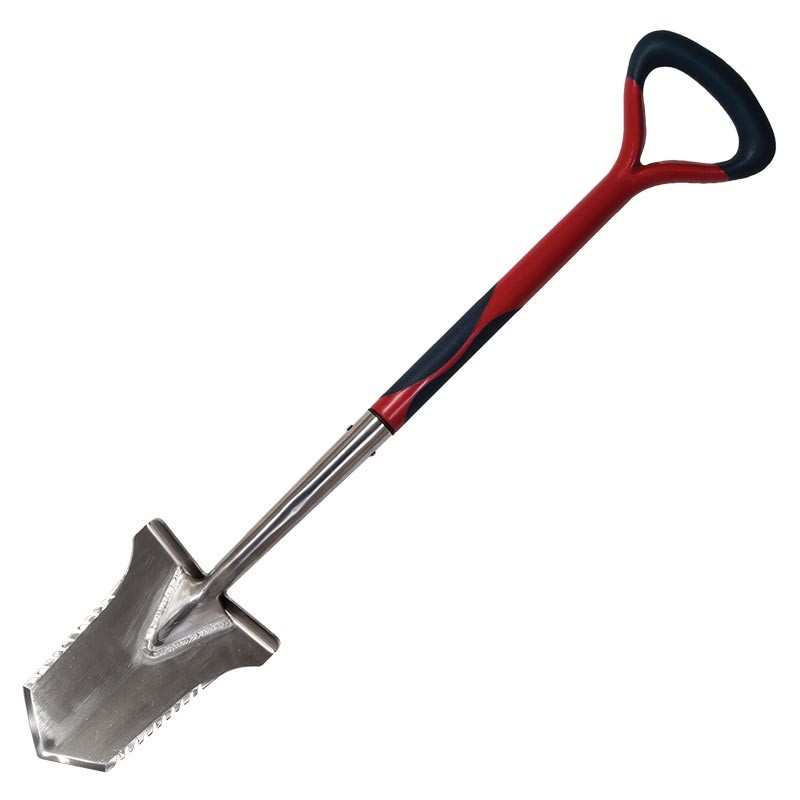 The Evolution Pro Cut
The ultimate accessary for the serious metal detectorist. Super strong, stainless steel specially designed spade.