Metal detecting apps are a great way to manage your day when out metal detecting. They can help locate your position, track where you have detected, log where you have found targets, photograph them and also find interesting features on old maps.
Apps for metal detecting
There are quite a few apps for metal detecting around for iOS and Android. After quite a bit of searching, I have found what I think are some of the most useful apps that are worth downloading.
They can help in a number of ways. It can be really useful to photograph and log the search location of good targets that dig up. This way, you can easily return to that location or hotspot for finds.
With the amount of finds you can rack up, it's very easy to lose track of finds.
Mapping software is again useful for remembering where you have detected before so you don't cover old ground. This is particularly useful if you have a lot of land.
Apps that incorporate the use of older maps can also throw up some useful outlines of old buildings or footpaths where items have been lost over the years.
If you live near near the coast or are thinking of beach detecting, an app that tells you the UK coastal tide times could prevent you from a wasted day by judging the high or low tides wrong.
Here are some of the better apps that could be very useful to you!
If you're looking to start metal detecting as a hobby, why don't you check out my other articles where to start metal detecting for beginners here!……or how to choose the best metal detector for beginners here!
Metal detecting apps Android
Just Detect app, Tect O Trak.
Metal detecting apps iPhone
LuckyFind app, Just Detect app, Tect O Trak, My Tide Times, Outside Maps.
LuckyFind:Metal Detecting App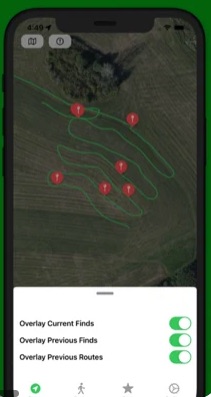 The LuckyFind app tracks your routes and your finds and is the perfect metal detecting companion app!
You can view the current route you are using with GPS navigation and easily pause and resume your routes whenever you want.
At any point, you can also view any stats about your route and your finds. Log finds effortlessly and track what you find plus its location for future reference.
Just input the find name and details, define a category and any other important information you wish to add.
Finally, take a photo and attach all the details together.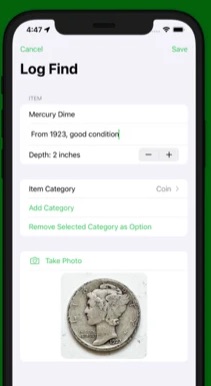 With its clever use of map overlays, you can toggle between satellite, hybrid and standard maps and also overlay your current finds from the day for the future.
There is the facility to add your previous routes and finds on the map too. View all your past detecting routes in one location an compare the stats about your routes and finds.
You can also view all your past finds and sort them by their categories. This helps recall where each item was found.
Just bring your iOS or Android phone with you on your route to track where you have been. When you find something, log it with the app.
It's easy to use interface will make metal detecting an even more enjoyable experience and it's free!
Find more information about it here on their website!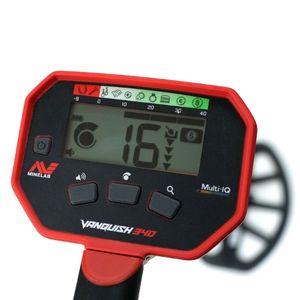 Unbeatable Multi Frequency!
You can now get the ultimate power of multi frequency technology over single frequency detectors with the Minelab Vanquish range of detectors.
The entry level Vanquish 340 now gives you ultimate depth, stability and sensitivity on all target types in every soil, including wet beach sand.
Just Detect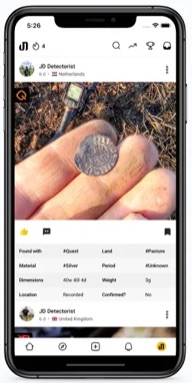 Just Detect is like Instagram however it's purely for recording your metal detecting finds.
You can create your profile, then choose if you want your profile to be public or private.
You then record your finds and allow other members to see your finds in your feed as you follow theirs. Everyone then likes and comments.
The more finds you record, the higher your score and position becomes on the Just Detect leaderboard.
You can also support your favourite metal detecting brand by choosing which brand of metal detector you have that found your find.
The brand will appear on your find as well as count toward the "finds by brand" leaderboard.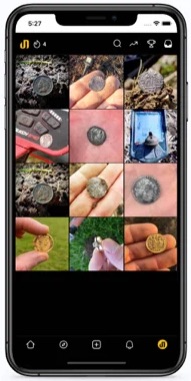 Not released yet but when the full release of Just Detect comes, it will include the ability to book permissions across 10+ counties in the UK.
This will require and annual subscription but could be very useful.
When using the location features, your location data is strictly confidential and not shared with other system users or any third parties.
This is as Just Detect's terms and conditions.
With you having complete control over your profile and the ability to set your profile as public or private, as well as having the option to turn on follow requests, it remains very flexible.
If follow requests are enabled, members can request to follow you and can't see your finds unless you accept their request.
There is also a block feature to block other members if required. This app is free and available on Android and iOS. You can find more about the Just Detect app on their website here.
Tect O Trak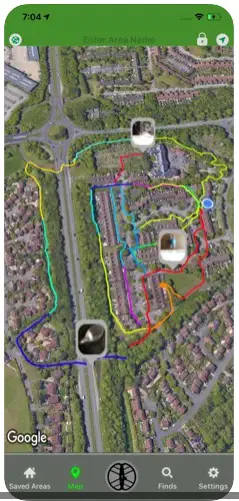 The Tect O Trak app has been specifically developed for the metal detectorist and enables you to track and record your movements, log your finds and their locations, and create detailed photo and descriptive records of your finds.
On the go track recordings can be saved and carried on anytime at a later date.
Tect O Trak is a work in progress however although fully operational. This is a very specialised app and was apparently crowd funded through Kickstarter.
It has been developed and maintained by members of the Facebook metal detecting community.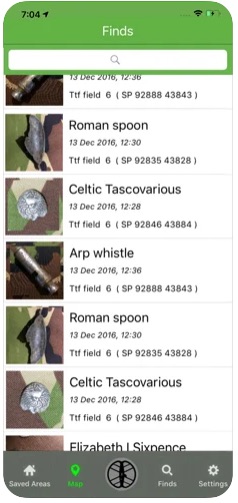 The beauty of this app is that it's live and constantly evolving.
You can play a part and have your say on how the app is developed in the future by joining the Facebook group:-https://www.facebook.com/groups/1569584126596648/
Tect O Trak iOS is a paid for app but is a not for profit community project. All revenue raised from sales, will be used to maintain and develop the application further.
Continued use of GPS running in the background can dramatically decrease battery life so make sure you are fully charged up. It's available on Android and iOS.
Find the TectOTrak app for iOS here and on Android here.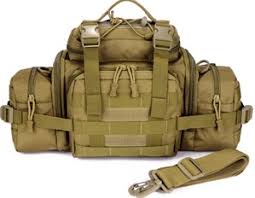 Ultimate Tactical Packs!
Carry everything you'll need for a detecting day like a First Aid kit, detector spares, finds boxes, batteries, snacks and drinks to rehydrate.
Never forget anything again with a belt pack!
My Tide Times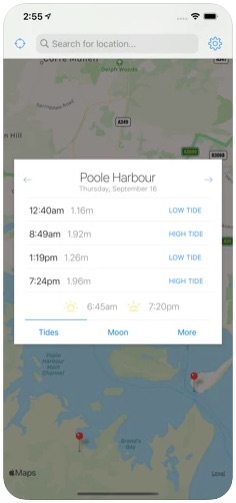 My Tide Times is a great little app that is perfect if you detect beaches. This could be the only tide times app you'll ever need.
Whether you're surfing, fishing or just going to the beach you'll be able to use it to get fast access to the high and low tide times.
It's one of the best tide times apps on the market to date.
Its features include over 9,000 tidal stations across over 40 countries (including the US, Canada, UK, Ireland, Australia and New Zealand).
When the app opens, you can find the nearest tide tables to you, so you can get tide predictions wherever you are.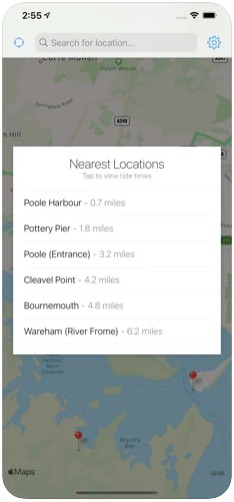 Other features include being able to view sunrise and sunset times for all locations alongside the tides in the application along with moonrise, moonset and moon phase information.
You also never have to worry about making sure the app is up to date because the app takes care of that for you.
See from five up to seven day forecasts for all locations (locations outside of the UK even have up to 30 day charts!)
When information has been downloaded, it is stored on your device so you can view it offline.
It gives you a very clean interface that you just won't get from other apps!
This version of the app is does have ads but it's a small price to pay for it being free. This is available for iOS. You can read my article on beach metal detecting here!
You can find the My Tide Times app here.
Outside Maps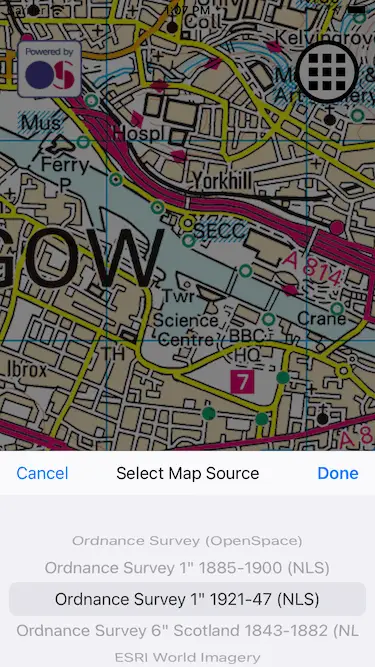 Outside Maps is probably in my opinion one of the best apps here today for detectorists. It enables you to view and navigate a wide variety of maps in a very easy, mobile way.
It supports Ordnance Survey mapping for the UK.
Outside maps also supports historic one inch Ordnance Survey mapping from 1880 to 1990 and 1927 to 1947 by working with the National Library of Scotland.
This means that you can have a very quick locational way of viewing old mapping where you detecting.
This could highlight some great areas to detect like old footpaths for example. You can read my further article on free ways to carry out historical metal detecting research tips here.
You can read more about Outside Maps on their website here and download it on Apple's App Store.
Final thoughts
I hope that these suggestions have been helpful to you. Sometimes, you don't know that these apps exist until they get pointed out!
Some others to maybe take a look at are Commander Compass Go, Outdoors GPS, Tide Times UK and Metal Detecting Organiser. Stay safe and happy hunting!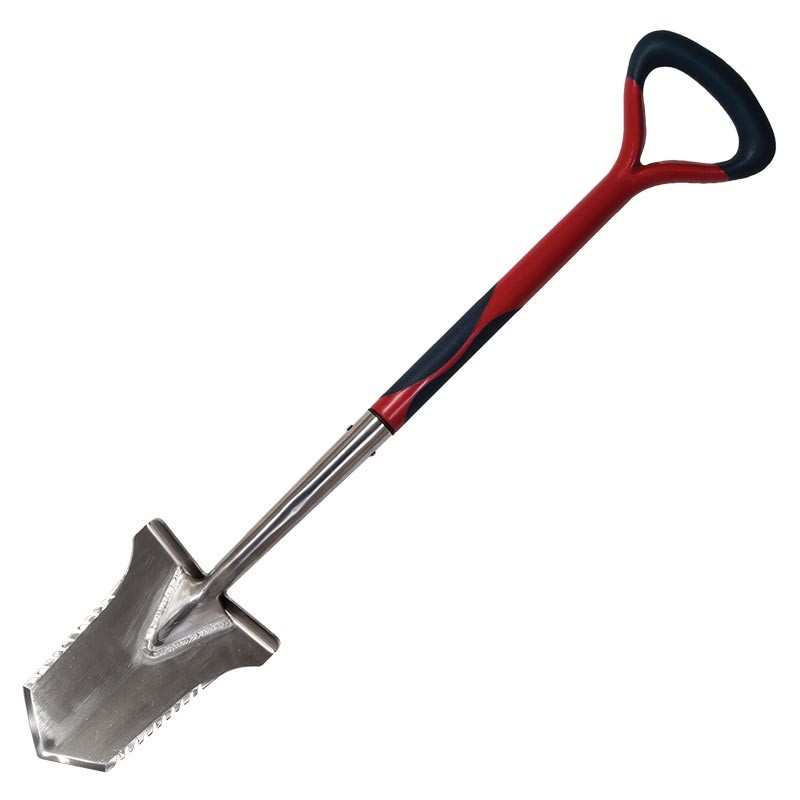 The Evolution Pro Cut
The ultimate accessary for the serious metal detectorist. Super strong, stainless steel specially designed spade.