The Minelab X Terra Pro – The XTerra history!
The XTerra Pro is the latest offering from Minelab and places itself firmly in the beginner bracket. This is the latest incarnation of the previous XTerra range.
The Xterra range originally launched in Nov 2005 and started with the base model XTerra 30. The mid range was the 50 and the top end was the 70.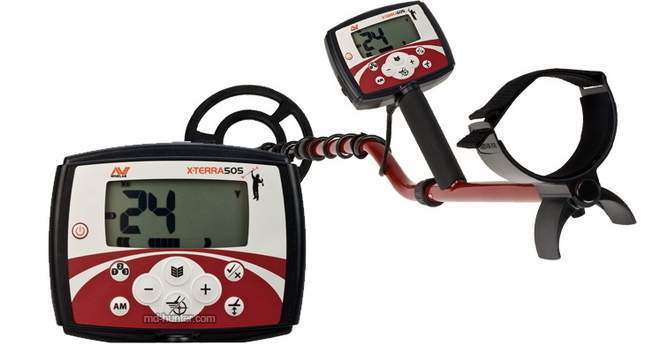 These were later revamped in August 2009 as the 305, 505 and 705 respectively.
Minelab no longer support these machines due to their age now.
Even though Minelab placed them in the beginner to mid range bracket, they were unique.
They came with a revolutionary feature that was pioneering at the time.
It has always really been known that different metal detecting frequencies have pros and cons in that certain frequencies perform better on certain targets.
Minelab therefore had the idea of a metal detector being able to change its frequency by swapping its coil. Thus the XTerra was born!
Coils came in a low frequency 3KHz variety, a mid frequency 7.5KHz and a high frequency 18KHz variety. This meant that depending on the particular targets you were hunting for, you could maximise your time.
For example, if you were hunting for smaller, thinner hammered coins, the higher frequency 18KHz coil would be chosen. If hunting for deeper, thicker silver coins, the 3KHz coil could be chosen.
You can read my article on metal conductivity and how frequencies react on them here.
This was finally packaged with Minelab's "V-Flex" technology which placed a microchip controller in the detector and one in the coil. These communicated on start up so the detector knew which coil was being used.
It also boasted making signal transmissions cleaner and clearer reducing distortion and increasing target ID accuracies.
In my many years of detecting, I've owned an XTerra 70 and absolutely loved it! I ran it in All Metal mode and 2 tones giving a low tone for iron and a high tone for everything else.
Side note!….Why not read my article on how to find a metal detecting club near you here! If you are after finding some land yourself, look at my article about farmers who allow metal detecting here.
Minelab XTerra evolution!
Even though the benefits of being able to switch coils in order to switch the operating frequency of a detector was obvious, it did mean that you had to purchase extra coils and it was a faff to change.
As technology advanced, metal detector manufacturers began to release machines that had the ability to switch operating frequencies via a button on the control box rather than having to change a coil.
This has now transitioned into simultaneous multi frequency that uses several frequencies at once so that you don't have to physically switch frequencies and not have to worry which one is best to use.
Why launch a single frequency switchable machine?
One big question which baffled the detecting community was why Minelab decided to launch a switchable single frequency machine in 2023?
This is an even more relevent question when true multi frequency machines can be had relatively cheaply now for an entry level model like the Minelab Vanquish 340.
You can read my article on the Minelab Vanquish range here.
It doesn't detract from the fact that it's a very good machine for its price point but cynics thought it was to deliberately challenge Nokta's Simplex+ in the beginners bracket as it's a lucrative market.
Nokta are producing some great machines and are increasing their market share. Maybe Minelab didn't like this and lauched the XTerra Pro deliberately to hobble sales of the Simplex+……who knows!
Both similarly priced in the sub £300 bracket, the Nokta Simplex+ is a cracking machine. I know as I have used my detecting buddy's Simplex+ on several digs. It is however a fixed, single frequency machine.
You can read my article on the Nokta Simplex+ here.
The Minelab XTerra Pro trumps the Simplex in this department as it has the ability to switch between a choice of three frequencies. These are 5KHz, 10KHz and 15KHz.
This almost looks like a nostalgic nod to the original XTerra series but without the faff. The XTerra Pro also has a Beach mode that operates at 8KHz.
Minelab XTerra Pro specifications
Search Modes : Park, Field, Beach
All-Metal Shortcut : Yes
Custom Search Profiles : 6
Operating Frequencies (kHz) : Park and Field: 5, 10, 15 Beach: 8
Noise Cancel : Auto (19 Channels)
Ground Balance : Auto, Manual, Tracking
Sensitivity : 1 to 25
Target Volume : 0 to 25
Threshold Level : 0 to 25
Threshold Pitch : Fixed
Target Identification (TID) : 119 segment notch discrimination: Ferrous: -19 to 0 I Non-ferrous: 1 to 99
Target Tones : 1, 2, 5, All Tones (At), Depth (dP)
Tone Break : Ferrous (FE)
Tone Volume : Tone 1 adjustable: 0 to 25
Recovery Speed : 1 to 3
Depth Indicator : 5 Levels
Discrimination Segments : 30 segments (in increments of 4 Target ID's)
Pinpoint Mode : Yes
Wireless Audio : Yes
Length (approx.) : Collapsed: 63 cm (25 in) Extended: 138 cm (54 in)
Weight (including batteries) : 1.3 kg (2.9 lbs)
Display : Monochrome LCD
Display and Keypad Backlight (red) : Off, High, Low
Flashlight : On, Off
Vibration (Master and Ferrous) : On, Off
Supplied Coil : V12X 12″ Double-D Elliptical coil with skid plate
Audio Output : In-built loudspeaker, Wired 3.5 mm (1/8″) headphones, Wireless headphones
Battery : 3.7V/5100 mAh Internal Lithium-lon battery
Additional Included Accessories : Getting Started Guide, Charging Cable
Waterproof : 5m (16 ft) IP68
Key features for everyday use!
As metal detectors become more sophisticated, so do the amount of settings you can adjust. This can be daunting at times but the XTerra Pro really is a switch on and go machine with advanced features.
As well as superb build quality, it ships with a 12 inch DD coil which Minelab have named the "V12".
Most stock coils on machines range from 9 inches to 11 inches. You can read more about search coils in my article here.
The main key features that will realistically benefit you in the field are the switchable frequencies.
This can help massively when cross checking targets.
Also, the ability to carry out a complete Noise Cancel instead of frequency shifting is huge. This can make the difference between being able to detect and not detect in certain areas with excessive EMI.
Ground balancing is also essential and is available in three guises on the XTerra Pro. Auto, Manual and Tracking. This can massively help detection depth and manage difficult ground conditions.
Being able to adjust recovery speed and also turn down the volume on iron signals makes for a sophisticated detector that is a switch on and go machine.
Finally, being waterproof up to 5m depth will give you total peace of mind if you're every caught in a heavy downpour.
The Minelab XTerra Pro out in the field
The comprehensive walkthrough below by Unearthed UK demonstrates what a great machine this is for its price point.
Minelab X Terra Pro final thoughts
In my opinion, the Minelab XTerra Pro is the machine to go for in the sub £300 price bracket if your main hunting ground won't be wet beaches.
You can read my article on the Minelab Vanquish range here.
The Vanquish range would be the machine of choice in this price bracket. The Minelab XTerra Pro's main rival is the Nokta Simplex+ which is also a great machine to be fair.
Again, in my opinion, the XTerra Pro trumps the Simplex+ in several areas. Primarily, the build quality is noticeably superior. It also has a bigger coil and has 3 switchable frequencies which the Simplex+ doesn't.
It also has a dedicated noise cancelling feature where the Simplex+ only has a frequency shift. So where does the XTerra Pro fit in?
This is the perfect machine if you are a novice or beginner using a much cheaper machine and want to upgrade within a £300 budget. You will not get more for your money in a single frequency machine.
Find the lowest priced Minelab XTerra Pro on Amazon here.
If you are wanting to hunt more on open beaches rather than land, you may want to sway to a multi frequency machine as I outline below.
What other options might you have?…..well, as mentioned at the top of this article, Minelab also manufacture the "Vanquish" range which consist of the 340, 440 and 540.
For less than £250, you can enter the world of multi frequency technology with the Vanquish 340. The Vanquish 440 can be had for the same money as the XTerra Pro and loves saltly wet beaches!
There are pros and cons here as with most things in life! The biggest pro is that the Vanquish range all use Multi-IQ multi-frequency technology. They won't however have as much adjustability as the XTerra Pro.
The Vanquish 340 and 440 also don't have wireless headphones options where the XTerra Pro does.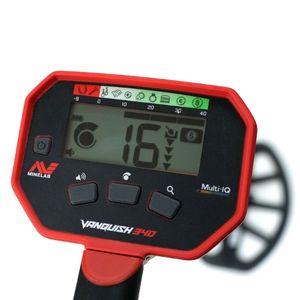 Unbeatable Multi Frequency!
You can now get the ultimate power of multi frequency technology over single frequency detectors with the Minelab Vanquish range of detectors.
The entry level Vanquish 340 now gives you ultimate depth, stability and sensitivity on all target types in every soil, including wet beach sand.